Oh Baby! Pregnant 'Teen Mom' Jenelle Evans Posts Racy Nude Bump Pic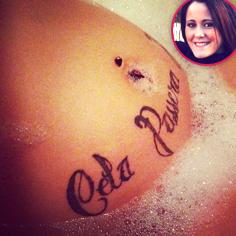 Jenelle Evans is basking in the glow of her pregnancy and she shared an intimate nude photo of her baby bump in the bath and RadarOnline.com has the scandalous snap.
The 22-year-old Teen Mom is expecting her second child with her boyfriend Nathan Griffith and she spent some time soaking in the tub and snapped a sexy pic.
"Me and the baby just relaxing," Evans wrote to her fans while bubbles covered her up, but her tattoo "Cela Passera Aussi," which means "This Too Shall Pass," was clearly visible.
Article continues below advertisement
Of course she was promptly slammed by her followers, with one writing: "U couldn't even take care of your first child.. Jace is going to grow up asking u "why r u changing his diapers when u never did for me?" Tisk risk," but she ignored the criticism.
Dismissing the judgment, Evans posted that she and her baby daddy are looking forward to expand their little family.
"Me and @GroundLevelUp co-parenting skills with Jace are so in-sync ! Can't wait for everyone to see how awesome Nathan treats Jace."