Police: Teen Arrested In Theft Of Roof Panel From Paul Walker Car Crash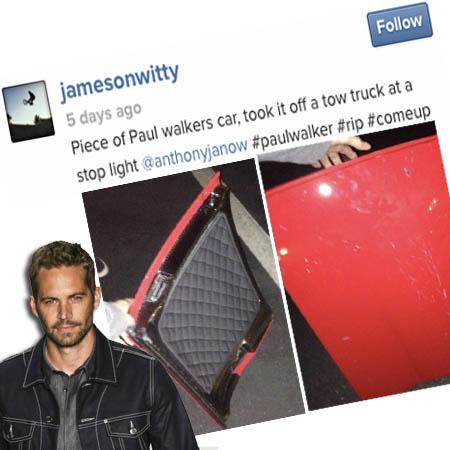 A Los Angeles-area teen was arrested Thursday in connection with the theft of a roof panel from the crash in which actor Paul Walker and his pal Roger Rodas perished, RadarOnline.com has learned.
Jameson Witty, 18, was taken into custody at his house and held on $20,000 bail, the Los Angeles County Sheriff's Department said. Witty collected the roof panel, from the 2005 Porsche Carrera GT Walker and Rodas died in, off the bed of a tow truck that was hauling away what was left last Saturday around 10 p.m., according to police.
Article continues below advertisement
Witty posted a photo of the memento on his Instagram account, admitting he "took it off a tow truck at a stop light," with the hashtags #paulwalker, #rip, and #comeup.
Another individual accused of taking home a souvenir from the macabre location had planned on turning himself into police immediately, authorities said, adding that the second suspect is not a California resident.