'I Will Love You Forever': Brad Pitt's Secret Love Letters Uncovered --- And They're NOT To Angelina!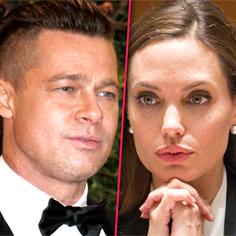 What do you get the woman who has everything for Christmas? As Brad Pitt prepares to spend the holidays with Angelina Jolie and their six children, he has already poured out his heart on the page, expressing his devotion to the woman he loves. But it's NOT a special Christmas note for Jolie! RadarOnline.com has uncovered secret love letters that Pitt penned for an ex-girlfriend, actress Jill Schoelen.
"I adore you. I will love you forever," one letter to Schoelen reads. And in another, he gushes, "I can't stop thinking about you. I don't feel complete without you next to me."
Article continues below advertisement
Pitt wrote the letters while dating Schoelen in the late 80s. She has revealed, "Brad wrote me one of the most beautiful poems a man can write a woman. I thought he was so deep and soulful." And dating him, she claimed, was "a beautiful life experience."
But that wasn't enough for the horror movie actress. In 1989, she broke his heart by dumping him for the director of a film she was making in Hungary.