Exclusive
Porn Shocker: Text Messages Reveal HIV Infected Star Attempted To Book Shoot AFTER He Knew He Had Tested Positive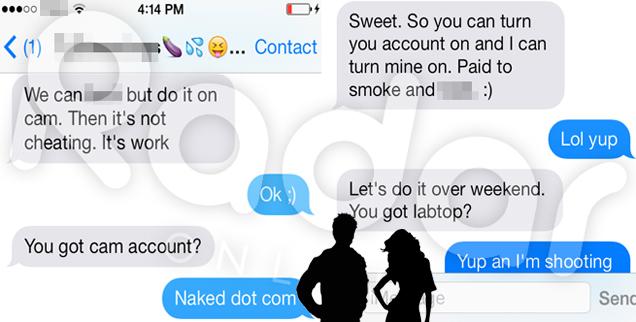 The latest HIV-positive case in Southern California's porn industry comes with a scary footnote, after it emerged the infected actor was trying to book a sex shoot with a female porn actress days AFTER he'd tested positive for the incurable disease.
The male star — who has not been publicly identified by authorities but shut down the industry -- attempted to book a sex scene via text message with an actress on webcam days after he took the test that revealed his HIV-positive status.
Article continues below advertisement
"We can f*ck but do it on cam," he wrote in a text message obtained by industry blogger Mike South.
"Then it's not cheating. It's work."
The woman agreed, but ultimately never followed through after it emerged the actor had returned a result during the mandated fourteen-day industry screening.
"The HIV-positive actor contacted the actress on December 5th at 4PM PST and suggested that they do a webcam show together on Sat Dec 7th," South wrote on his site, adding the actress "indicated that she was booked to shoot that day, but Sunday would work. The HIV-positive actor agreed on Sunday.
"This is CLEARLY after The HIV-positive actor would at least know that he had tested positive for SOMETHING, and I find it hard to believe that 48 hours after the test he didn't know what, but he had to know that he wasn't supposed to be shooting, he was even marked unavailable in the industry testing system.
"This kind of behavior is absolutely unacceptable and it shows a total disregard for her life."
As we previously reported, the actor in question had a background in both straight and gay films, known in the industry as a "crossover" performer.
This is the second outbreak in as many months: As RadarOnline.com previously reported, the porn industry resumed filming this fall after at least four actors tested positive for HIV – actress Cameron Bay and actor Rod Daily publicly came out as testing positive, but the other two identities remained publicly unconfirmed.