The Real Fibroids Of Atlanta! Cynthia Bailey Says Fellow Housewives Kandi, Porsha & Kenya ALL Had Same Health Issue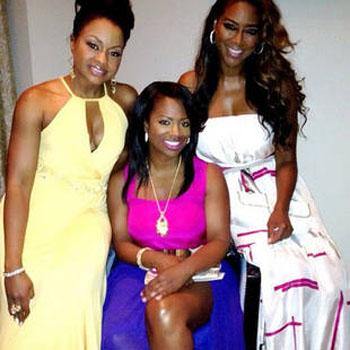 The Real Housewives of Atlanta star Cynthia Bailey, who had fibroid surgery on the show after an embarrassing flooding problem, told Bravo host Andy Cohen that her co-stars Kandi Burruss, Porsha Stewart, and Kenya Moore have all staggeringly suffered from the same health issue.
On Sunday night's Watch What Happens Live, Cynthia revealed, "Kandi had fibroids, Porsha, and also Kenya. Kenya had really bad fibroids. She's still suffering with them now."
Article continues below advertisement
Cohen commented, "It's like the real fibroids of Atlanta!"
But it was Cynthia who bravely had her fibroid condition explored on camera this season.
And she told Cohen her recovery is going great after her operation to remove the fibroids.
"It's been about six months now," Cynthia said.
"Best thing I ever did on the show because I got SO much response. I'm so glad I did it on television because so many people suffer from fibroids and people just don't really talk about it."
When a fan called into Cohen's show to ask why her husband, Peter Thomas, didn't seem too supportive of the situation on the show, Cynthia replied, "I know Peter did seem a little unsympathetic but you guys only see snippets of the whole thing. That operation, that procedure took a long time and Peter never left my side. He was great."
Also on RHOA, Cynthia has been dealing with her daughter Noelle dating for the first time, and confirmed for fans that the teen is still seeing her boyfriend, Arthur.
Article continues below advertisement
And the model agency owner dished about her co-star Phaedra Parks, who has been feuding with her husband Apollo Nida after he allegedly exchanged inappropriate texts with Kenya.
"Phaedra needs to move on," Cynthia said.
When a fan called into Cohen's talk show to ask how Porsha is handling her messy divorce from Kordell Stewart, Cynthia said she should move out--from her mother's house!
RHOA viewers have seen Porsha living with and being pampered by mom Diane and Cynthia declared, "The time has come for her to just step on out. She's not 18 so it's okay. Mom and her sister have nursed her back. It's time for her to crawl on out of the nest and fly on out into the world."
Cynthia, was joined on Watch What Happens Live by Sandra Bernhard, who has been a friend of the model since she played a bit part in the comedian's 1990 film, Without You I'm Nothing.
The funny woman took the opportunity to give her opinion on recent newsmakers Roseanne Barr and Kanye West.
Cohen asked Bernhard, who acted on Barr's famed sitcom, what she thought of Barr's recent Twitter rant.
As RadarOnline.com has reported, Barr cussed out Hollywood producers and Anderson Cooper during a self-admitted "drunk tweeting" meltdown while in the middle of developing a new sitcom.
Article continues below advertisement
"I know she's upset 'cause she's written two really good scripts for NBC and they haven't picked them up, and they should be," said Bernhard, who played a recurring role on Roseanne from 1991-1997.
"Why shouldn't Roseanne be back on television?
"I mean, the Roseanne show has not been off the air since it was first on the air and it's in repeats every day, 20 times a day," devoted friend Bernhard pointed out.
When asked if she were still cashing checks from being on Roseanne, Bernhard laughed to Cohen, "Yes! I still get my residuals!"
Later, Cohen asked the comedian what she thought of Kanye West saying he's the king of fashion and the most influential person in the world.
Bernhard, who has poked fun at the Kardashians in the past, amused the audience by remarking, "Well, you know he's playing it off as much as he can. These days, you've gotta keep lying and making stuff up because otherwise people lose interest in you. Whatever it takes!"