Roseanne Barr Goes On Epic 'Drunk Tweeting' Rant, Says 'Women In Hollywood Cannot Suck D*** Fast Enough' & Calls Anderson Cooper 'A Toad'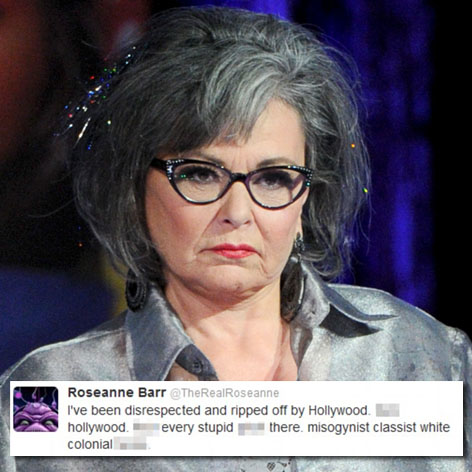 Roseanne Barr is just a little unhappy with the development process of her proposed new sitcom.
Saturday night, she went on an epic rant of non-stop profanity. After a short break, during which she admitted to "drunk tweeting," she resumed her non-stop messaging Saturday morning.
It was announced in January that Barr was developing a new sitcom for NBC, and in January, is was revealed that Nurse Jackie co-creator Linda Wallem was co-writing the new sitcom with Barr and had been hired as the show runner.
Article continues below advertisement
Things apparently haven't gone well.
Saturday night got off to a start with Barr writing, "Development process went like this: show runner disappeared for 7 weeks-never returned any calls from me-I was told she goes in2 a cave...
"and cannot b reached by me. That was the first thing that happened after I signed on 2 collaborate."
It went downhill from there, with Barr ripping Wellem's script for the pilot episode, saying there "were no jokes in it."
"Every time someone tells me I'm a genius-that means I'm going to get f**ked," she wrote, adding that the men in Hollywood are all anti-Semitic and anti-women.
That doesn't mean Roseanne was about to defend women. She had a few choice words for them too!
"Women in Hollywood cannot fall to their knees fast enough to suck d***," she offered before turning her wrath on Anderson Cooper.
Okay, we have no idea why she's mad at the CNN newsman but she called him "A TOAD" in call caps!
"newsflash: Yes, I do have mental health issues," Barr wrote Sunday morning and then followed with a promise of no more "drunk tweeting."
Anderson Cooper can relax now.