Crossing The Line: Miley Cyrus' BFF Mocks Demi Lovato's Cocaine Abuse Confession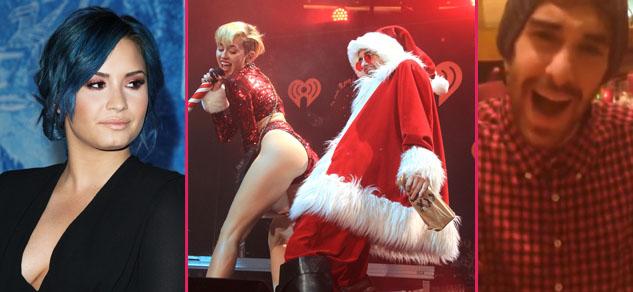 After years of battling demons that nearly killed her, Demi Lovato finally opened up like never before about her drug addiction last week, admitting, "I couldn't go thirty minutes to an hour without cocaine." But soon after she made that painful admission in the hopes of helping others struggling with addiction, she's being mocked by someone very close to her. Miley Cyrus's BFF Cheyne Thomas posted a video to Instagram on Monday night making light of Lovato's confession.
Article continues below advertisement
"I can only go thirty to sixty minutes without coke," a smirking Thomas tells the camera, before slugging back a glass bottle of Coca-Cola and slamming it on the table. Thomas, who's been playing Bad Santa during Cyrus' Jingle Ball performances, quickly deleted the post, but fans had already grabbed the video and were weighing in online, blasting him for his insensitivity.
"You don't make fun of other people's struggles, period," Youtube user magdixXxGlimh wrote.
Dory Jackson added, "That was so inappropriate and uncalled for. Making fun of someone's drug addiction? Super insensitive. That was so ignorant on his part."
Josephine Mayhew chimed in, "This is so childish."
Cyrus and Lovato were once drug buddies, fellow Disney alum Joe Jonas has claimed, alleging they were the first to convince him to try pot.
But as Lovato has gotten sober, Cyrus' drug use appears to have escalated, and Lovato's had to keep her distance.
"She knows how I feel about the whole partying thing," Lovato has said. "And I'm always like, 'Just be careful.' And she's like, 'Dude, I'm chilling. It's fine.'"
Do you think that the video was funny or did it cross the line? Let us know in the comments!