Exclusive
Clint Eastwood Divorce Turns Nasty: 'Dirty Harry' Star Doesn't Want To Pay Spousal Support To Ex, Reveals They Secretly Separated 18 Months Ago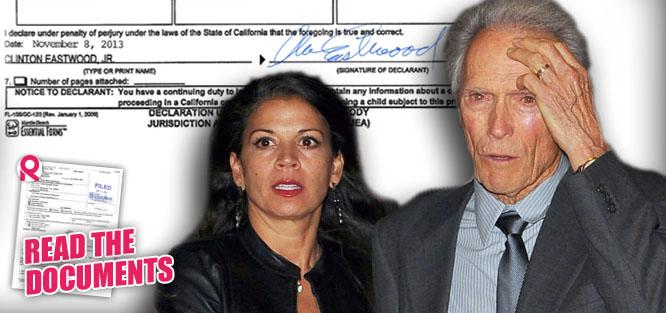 Clint Eastwood has filed a response in his bitter divorce battle from estranged wife Dina — a move that has set up the pair for a court showdown in their multi-million dollar bust-up.
The five-time Academy Award winner, said to be worth $350 million, used the documents -- read them here -- to indicate that he does not want to pay the former news anchor spousal support.
He is also seeking to force Dina, 48, to pay her own legal fees.
Article continues below advertisement
The 83-year-old acting legend also revealed the pair had SECRETLY separated more than twelve months ago — on June 2, 2012, after 17 years.
Dina, who had a failed reality show on E!, filed for divorce in October citing irreconcilable differences.
Then, in addition to asking for spousal support and full legal custody of their 16-year-old daughter Morgan, Dina listed the separation date as "to be determined."
MORE ON:
Celebrity Justice