Break Out The Mistletoe! Without Kids, Charlie Sheen Spends XXX-mas With Porn Star Gal Pal Brett Rossi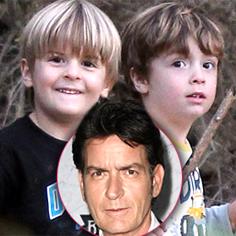 Without any of his four young kids in tow, Charlie Sheen spent Christmas with his porn star gal pal Brett Rossi, expressing his bitterness and anger with a few telling holiday tweets.
The TV star tweeted, "kids, no kids, stocking coal WHO CARES! prepare your jealous faces!! look who I'M hanging with!!!! c #AllMasheenIn14," linking to a pic of the blonde beauty. (As we previously reported, the Anger Management star made up his mind "several weeks ago to take Brett to Europe for the holidays for Christmas," a source told us.)
Article continues below advertisement
Sheen, as of late, has been on rocky terms with ex-wife Denise Richards. Her lukewarm invitation to him regarding a holiday trip with their daughters Sam and Lola led to the Wall Street star lashing out at her Twitter, and intimate she'll take a financial hit -- vis a vis a reduction of the $55,000 a month he pays her in child support -- for leaving him out of the loop. (He hash-tagged a subsequent tweet Wednesday, "#TooMuchChild$upport.")
On Christmas Eve, a presumably lonely Sheen tweeted a pic of a table of family pictures, writing, Is "this is as close I get to my children on Xmas? … B, D, and DCFS go phuk urse elves c."
The former Two and a Half Men star, 48, was famously arrested Christmas Day four years ago in Colorado after a domestic violence incident with ex-wife Brooke Mueller. He didn't see his twin sons with Mueller, Bob and Max, on Wednesday, as they're in the custody of her brother Scott.