'RHOA' Star Kenya Moore: 'Ignorant' Brandi Glanville 'Needs Rehab!'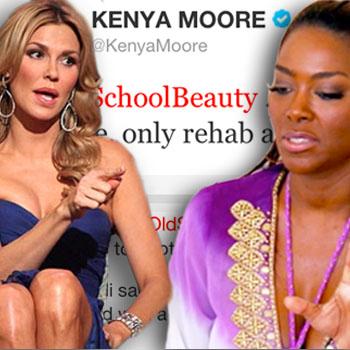 Article continues below advertisement
To that, Kenya replied, "I can't help her, sweetie — only rehab and penicillin."
The RHOA star continued to rant about Glanville's behavior.
"Not all Black women wear hair weaves," Kenya tweeted on Dec. 9. "Half the women on #RHOBH are wearing some fake hair. Brandi cannot be more ignorant."
Glanville, in retort, took a swipe at the former Miss USA on her official Bravo blog.
"As far as Kenya Moore calling me ignorant, while I do find her entertaining on RHOA, I am sorry but I just don't care nor do I respect the opinion of a grown ass woman who flirts, texts, and tries to sleep with another woman's husband," she wrote, referring to the alleged "flirty texts" Moore sent to Phaedra Parks' husband Apollo.
"Once she finds some self respect, maybe I will learn to care about what she thinks," Glanville added.
The Real Housewives Of Beverly Hills star came under fire after Monday's episode, calling into Andy Cohen's show Watch What Happens Live to defend herself against charges of racism. She also used her Bravo blog to say that she didn't really want to keep apologizing for the slur.
"First and foremost, I really do want to sincerely apologize and say I am truly sorry for the insensitive joke I made about Joyce not getting in the water and to anyone of my friends or fans of the show I offended," the 41-year-old reality show star wrote.
Although she announced that she is sorry for the offensive comment, she stated that she can't possibly be racist because she's dated African American men.
"I generally tend to speak before thinking, which is something I wish I could change about myself. But it has been 41 years now and I don't really see that happening," she wrote.
"To start off, I have been in several romantic relationships over the years with African American men and still have close relationships with those ex-boyfriends even now. For over 20 years now, I have had girlfriends from pretty much every ethnical background. Sometimes (actually a lot of times) these girlfriends and I joke inappropriately with each other. These jokes are clearly not ready for TV."