Man Who Killed Blake Shelton's BFF Goes Free! PLUS -- New Details On The Shooting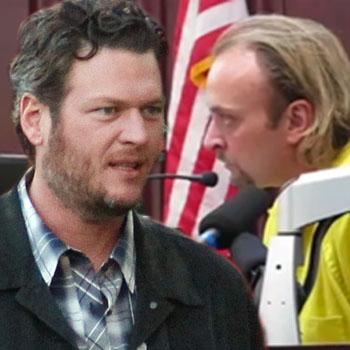 Nashville bar owner Chris Ferrell, the man who killed Blake Shelton's mentor, Wayne Mills, appeared in court in Tennessee yesterday for a hearing in his second-degree murder case. And by the end of the day, he was released from jail, inciting anger among his victim's fans online.
Ferrell's attorney's had pushed for the hearing to reduce the $300,000 bond that had kept him locked up since his arrest on December 6. The judge eventually reduced the bond to $150,000 and added restrictions on his movement. RadarOnline.com has learned that Ferrell will be required to wear a GPS monitoring device, subject to random drug and alcohol testing, and stay in the state of Tennessee. He was forced to surrender his passport and his extensive collection of guns.
Article continues below advertisement
During his time in court, Ferrell also made some new allegations about what really happened the night he shot Mills. He repeated his claim that the two had argued after he caught Mills smoking in a non-smoking section, but insisted that Mills came to the bar, the Pit & Barrel, to "rob and kill" Ferrell. In fact, it came out in court, two guns were found at the scene when police arrived, and a private investigator hired by Ferrell found an additional bullet lodged in a wall of the bar. Whether that bullet was from the gun used to shoot Mills will be discussed later in the trial.
Spectators noted that Ferrell was wearing a yellow jumpsuit for his appearance, which signified that he had been placed in protective custody in jail. Indeed, Ferrell told the courtroom that he's been bombarded with death threats and had been wearing a bulletproof vest before he was arrested.
Ferrell was released from jail at 6:47 p.m., but he will face more challenges from the Nashville community, who are outraged over his death.
"Him rotting in hell doesn't seem harsh enough," Aubrey Hager wrote on a post about the court appearance. "My thoughts and prayers continue for the family and friends of Wayne!"
"He has to wake up everyday with the guilt on his conscience and no money can bail you out of that," Christie Moreshead added. "He should be ashamed of himself. I can't believe he's out walking around."
Stay tuned to RadarOnline.com for the latest developments in the case.