New York Judge Threatens Rehab Released Amanda Bynes With Bench Warrant For Missing Court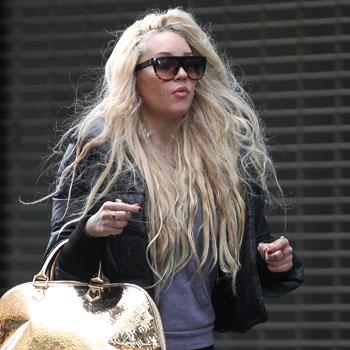 Amanda Bynes may be out of rehab but the troubled startlet was in more legal trouble on Thursday when she missed a court appearance in New York City and the judge seemed "irritated" about her absence.
The 27-year-old had a hearing about her alleged bong throwing incident but she did not appear in the Manhattan Criminal Court and Judge Diana Boyar was "visibly irritated" with the situation, according ot the New York Daily News.
Article continues below advertisement
"Where is the defendant?" Boyar testily queried of Bynes' attorney, Gerald Shargel. "Is she still in the hospital?"
The judge said that Bynes must appear for the next hearing "or else a warrant will be ordered," throwing the book at the former Nickelodeon star.
However, the prosecutor told the judge that for Thursday's absence they didn't feel extreme measures were necessary.
"Judge, we are not asking for a bench warrant."
MORE ON:
Celebrity Justice
Bynes' attorney spoke outside the courtroom about a potential deal that might happen.
"We're just trying to achieve a fair and just disposition."