Exclusive
Circling The Wagons: Radio Silence On Aaron Rodgers' Gay Controversy From Team, Agent & Girlfriend's Family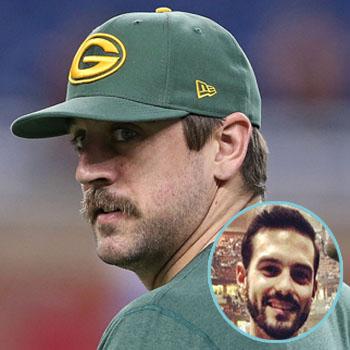 As the gay controversy involving Green Bay Packers quarterback Aaron Rodgers grows, RadarOnline.com has exclusively learned that the team surrounding the superstar athlete has adopted a code of silence in the wake of the reports.
RadarOnline.com reached out to the Packers' public relations team seeking comment regarding TheFameDriven.com report that Kevin Lanflisi and Rodgers had a falling-out after Rodgers agreed — then, at the last minute, refused — to join a group of NFL stars preparing to publicly identify themselves as gay this past summer. The report goes on to say that Lanflisi subsequently moved out of Rodgers' Wisconsin home and headed for California following the severance.
Article continues below advertisement
The team did not respond to a comment request and neither did Rodgers' agent, David Dunn, whose company, Athletes First ,was ranked by Forbes magazine as the second most valuable NFL agency.
Rodgers has been dating Destiny Newton, a relationship that was first reported by RadarOnline.com, but while her family has been instructed not to speak out about the situation they also would not comment on the status of her relationship with him.
"I'm not supposed to talk to anybody," her father Fredrick Newton told RadarOnline.com.
"I'm not supposed to say anything and I'm just dad. I don't want to get into trouble."
Her mother, who previously gushed about her daughter's boyfriend, telling RadarOnline.com that the young couple met at church camp, said that she was asked not to talk either.
"I got in trouble last time I spoke about their relationship. I'm just not allowed to say anything this time at all," Colene Newton said when reached at her home.
Article continues below advertisement
Rodgers' former assistant and roommate Kevin Lanflisi has been silent since the reports were first published, staying off social media. His parents Kay and Rob Lanflisi did not respond to a comment request.
The deeply religious NLF star has spoken frequently about his faith, and his long time pastor, Andrew Burchett of the Neighborhood Church of Chico, Calif., has given interviews about his participation in the church.
"Aaron tends to be a quiet guy, but is also a fiery, competitive person. He will not force what he believes on others, but he is consistent and willing to share his faith in the context of relationship." Pastor Burchett once said about Rodgers.
"Aaron would be one who leads by example of what it looks like to be a Jesus-follower."
However, he too has not responded to the reports or addressed the controversy after RadarOnline.com reached out to him multiple times for comment.