Exclusive
X-Factor Error! Voting Glitch Means Contestants Must Perform Again, Simon Cowell Waiting To See Who Can 'Handle The Pressure'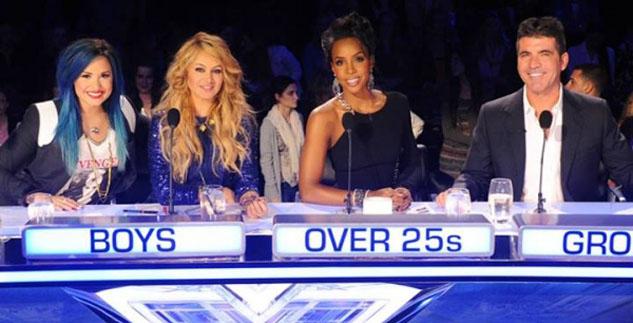 The X Factor had a voting glitch on Wednesday that will cause contestants to perform all over again on Thursday night and RadarOnline.com has the exclusive behind-the-scenes details.
With less than 24 hours to prepare for another performance, the contestants are under great pressure — and that's just how judge Simon Cowell wants it.
Due to a graphics error, two numbers for voting were incorrectly displayed during the East Coast airing of the hit talent show, resulting in all votes for the night being vetoed.
Article continues below advertisement
"The producers were told about the mistake immediately and called a meeting where they informed all the contestants what had happened," a source on the set exclusively told Radar.
"They had already spoken with Simon Cowell and the other judges together who all agreed with the decision that it was only fair for all the contestants to perform again and for the whole vote to be repeated.
"Simon now wants to see them all really deliver incredibly on stage, this is where the real stars will stand out in the competition, under this pressure."
According to the insider, the top contestants had a full week to prepare for Wednesday night's show, so with less than 24 hours, some are freaking out.
"Some of them are freaking out a little, but there are also some who are happy because they thought they didn't do as well as they wanted on Wednesday and now they get a second chance," the source said.
Contestant Jeffrey Adam Gutt felt good about his performance, and will now have to do it all over again tonight.
Article continues below advertisement
The group Restless Road is excited about their second chance, telling followers they're going country.
"Things like this happen with live TV and in the music industry, major artists have to deal with things changing at the last minute or mistakes on stage and being under massive pressure, so this a real test on the contestants to see how they handle the pressure of this now," the insider added.
"A few haven't had any sleep and some of them have been put on vocal rest because their voices are already tired. This could turn the whole competition around for some of the artists."
Will you be watching and voting tonight? Sound off below with your favorite act this season on The X Factor…