Exclusive
Farrah Fawcett's Last Wishes At Center Of Ryan O'Neal Art War Trial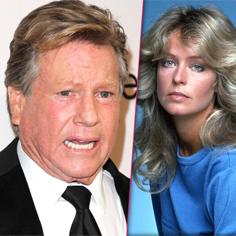 Farrah Fawcett final wishes as documented in her will come into question during the multi-million dollar art war trial between Ryan O'Neal and the University of Texas, it emerged Wednesday.
The Oscar-nominee filed a motion in a bid to convince a judge to allow evidence to be introduced that would question the Charlie Angels star's living trust document -- first revealed on RadarOnline.com — and whether she really intended for the Andy Warhol silkscreen at the center of the legal dispute to be bequeathed to her alma mater.
Article continues below advertisement
The University has long said "it is indisputable that in Ms Fawcett's living trust, she named the University of Texas at Austin as the sole beneficiary of all of her works of art, including artwork she created and all objects of art that she owned, for charitable purposes."
But according to O'Neal, it's in dispute as to whether Fawcett, who died of cancer in 2009 at 62, actually wanted what her will appeared to argue.
"O'Neal submits that there is ambiguity regarding the meaning of certain aspects of the Fawcett Living Trust which may require clarification through trial testimony, based on recent third party witness disclosures made after O'Neal filed his original Opposition which call into question the meaning of the language of the Trust and Ms. Fawcett's intent regarding the disposition of her artwork," lawyers for the 72-year-old wrote.
The filing argued that O'Neal should be able to introduce evidence that Fawcett "did not intend for her acquired (as opposed to self-made) art to be delivered to UT upon her death, among other things."
Lawyers for the Hollywood lothario charged: "O'Neal should be entitled to introduce relevant evidence concerning Ms. Fawcett's intent -- including evidence 'inconsistent' with UT's interpretation of the Trust and this Court should not preclude O'Neal from so-doing."