Exclusive
Good Girl Gone Bald! Rihanna Suffers Shocking Hair Loss From Overstyling -- Is It Permanent?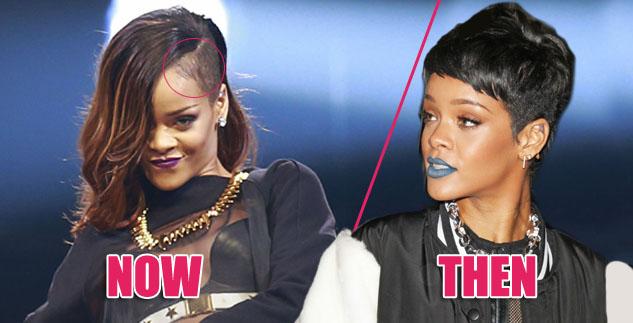 From mullets to mermaid waves and everything in between, Rihanna has rocked a constantly rotating lineup of hair looks over the past several years. And finally, it's catching up with her.
International hair extension expert Tatiana Karelina tells RadarOnline.com exclusively that it appears that Rihanna's experiencing hair loss because of her over-styling -- and she needs to stop before it's too late.
Article continues below advertisement
In fact, the condition is much worse than just damaged hair. According to Karelina, RiRi displays signs of suffering from a medical condition known as "traction alopecia."
"Traction alopecia is caused by hair being pulled tightly, stretching hair follicles out and causing the attached hair to break and fall out," Karelina explains. "Continuous use of heavy wigs, glued hair extensions, tight weaves and braids eventually causes such serious damage to follicles to the extent that hair fails to grow at all."
The condition usually affects the area at the hairline above the forehead or on the sides, she says, which is where Rihanna appears to have experienced hair loss.
"When hair extensions are applied properly, they are completely safe and can give amazing results," the extensions expert says. "But when done with no care for natural hair, they leave the follicles damaged beyond repair."
So if Rihanna doesn't want to rock a bald look forever, Karelina says, "She needs to act now and take a break from weaves. At the initial stage, the hair loss is reversible, but prolonged tension may destroy the hair follicles and will not re-grow under any circumstances."