Lost? New Jersey Housewife Star Dina Manzo Apartment Hunting In New York City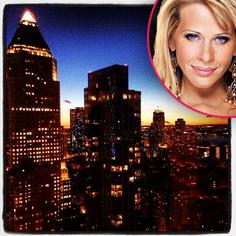 Dina Manzo may finally be moving out of the home she shares with her estranged husband, RadarOnline.com has learned.
On Nov. 24, the Real Housewives of New Jersey star posted a photo on Instagram, stating she was apartment hunting.
"This view doesn't suck," she captioned a photo of several high-rise apartment buildings located near Hell's Kitchen in Manhattan.
Noting that the location isn't in New Jersey, one person joked that she's on the wrong reality show: "Maybe you should join RHONY!"
Article continues below advertisement
As Radar previously reported, Dina signed on for the sixth season of RHONJ, after a four-year hiatus, which has led some to believe she's using her new gig to gain financial freedom from her husband, Tommy Manzo.
"Here's the thing, she wants to get a divorce from Tommy. They have a pre-nup that's the size of a frigging phone book. If she divorces, she isn't getting anything. She walks away with no house, nothing — so it's either sign back with Bravo or you stay with the devil," a source told Radar.
Dina broke the news about her crumbling marriage via her Twitter page in February.
"My secret…I have been separated since October," she wrote on Feb. 2. "My heart hurts but Tommy & I will always share a very special love.
"So grateful for the support of my loved ones during this time, especially my spiritual friends. You know who u are xoxo."
Dina tied the knot with the Brownstone co-owner in 2005 in front of VH1 cameras for the reality show, My Big Fat Fabulous Wedding.
But, the pair's romance has been anything but a fairytale. Dina has openly admitted that Tommy cheated on her multiple times during their courtship.
"She's caught him a number of times. It is disgusting," said the source.