Exclusive
Revealed: The Reason Why Housewife Dina Manzo Returned To New Jersey — Wants Financial Independence From 'Beholden' Cheating Husband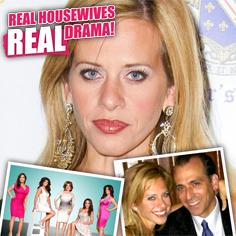 Dina Manzo has signed on for season six of The Real Housewives of New Jersey and RadarOnline.com has uncovered the secret reason why she opted to return to the drama zone.
According to a source close to the RJONJ alumn, she was faxed with a vexed choice: either go back to Real Housewives to make her own money and become financial independent, or stay married to her cheating husband Tommy Manzo who still financially supports her.
Article continues below advertisement
"Dina signed because she had little choice," the source tells RadarOnline.com.
"Here's the thing, she wants to get a divorce from Tommy. They have a pre-nup that's the size of a frigging phone book. If she divorces, she isn't getting anything. She walks away with no house, nothing — so it's either sign back with Bravo or you stay with the devil."
Dina wants to divorce Tommy — who she married in 2005 and then separated from in the fall of 2012 — because of his continuous infidelities.
Despite planning their nuptials in front of VH1 cameras for the reality show, My Big Fat Fabulous Wedding, the pair's romance has been anything but a fairytale.
Dina has openly admitted that Tommy cheated on her multiple times during their courtship.
"She's caught him a number of times. It is disgusting," said the source.
Once things take off again with RHONJ, the source suggested it wouldn't be long until Dina officially files for divorce.
Article continues below advertisement
"That's what I think," the source says. "I think that's one of the reasons she wants to do this and I don't f****ing blame her. I would to do it.
"I'm proud that she would do something, even something she doesn't like, to not be in a loveless marriage," the source added. "Who wants that? I would rather join."
And Dina knows that it's not going to be an easy ride since she has already been a cast member in the past.
"Housewives is an ugly job and is as rough as you get," the source told Radar. "They're ruthless. She is going into the lion's den. There's no question. Dina's got some skeletons and she knows it.
"But she had to make a choice… either she stays with a cheating husband or she does the show… so she signed."