Exclusive
First Look: 'Pippi Longstocking' Sex Tapes Hits The Web -- It's Freckle-Faced Tami Erin Like You've Never Seen Her Before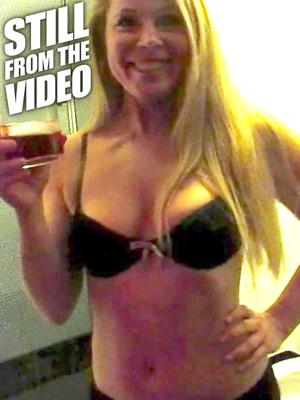 Pippi Longstocking actress Tami Erin was a child star who has made a very grown up move, starring in her very own sex tape. Now it's hit the web and RadarOnline.com has your first look.
The blonde actress said that she was shocked to find out that her ex-boyfriend was shopping around their home-made romps so she decided to finally release it herself, after being "backed into a corner."
"He threatened to release it with or without me on a server off shore," Erin, 39, explained in an exclusive interview.
Article continues below advertisement
On her site, www.Pippiexposed.com the once freckle-faced star promises the tape is "uncut, uncensored and unbelievable."
In the teaser clip Tami is seen naked in various risqué situations and her boyfriend is heard saying "I'm going to watch you're a** while you walk."
Speaking to Radar, Erin said: "I'm happy I took control of the situation and made a decision as a strong independent woman. I love who I am and I love my sexuality... I've seen the sex tape now and it's hot.
"Making love is beautiful and a very important part of a relationship. Everyone does it, everyone has sex...I'm a famous actress caught doing it."
She joins Paris Hilton and Kim Kardshian in the celebrity sex tape market, but according to Erin, this is different -- her "gorgeous body" is all her own.
"I'm proud to say I'm 100 percent what God gave me," she said.
"I've never had Botox or any cosmetic work done. This is me! I live a healthy lifestyle and it may also be good genes I'm Swedish, French, Irish, German and Croatian."
And surprisingly, she revealed that not only did she make much more than the $10,000 previously claimed, starring in the sex tape has opened a lot of doors for her.
"We're negotiating a collaboration with the Iconic Italian Fashion Brand Fiorucci, I have reality TV and movies in development. I'm a Philanthropist and International Ambassador for Hearts.com for the IHeart Change Program which raises money for 6 international charities."