Exclusive
Sex Tape Wars! Jealous Farrah Abraham 'Freaked Out' That Tape By Myla Sinanaj, Kris Humphries' Ex, Will Outsell Hers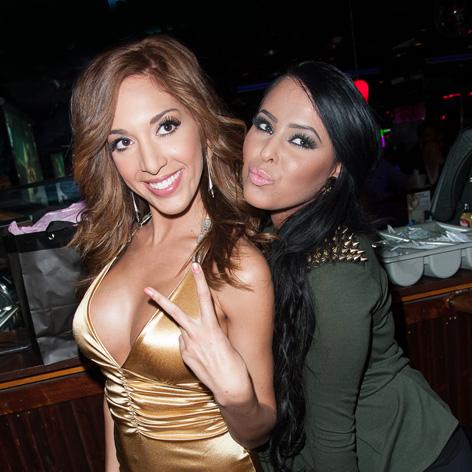 Another day, another sex tape! Kris Humphries' ex, Myla Sinanaj, released her X-rated film debut Monday. And Myla's former BFF and fellow sex tape star, Farrah Abraham, is not happy about it!
According to Myla, jealous Farrah is "freaked out" over the competition for body-baring bucks, and she's doing everything she can to steal Myla's moment in the spotlight.
"Farrah totally freaked out when she found out I was doing a sex tape too," says Myla, who became friends with Farrah when the two shared a manager earlier this year. "She was really scared that I was going to outsell her, because she makes money based on her sales."
Article continues below advertisement
"Farrah also makes a lot of money for her appearances," Myla explains, "and she didn't want the competition."
Hoping to derail Myla's porno career before it could even begin, "Farrah lied and told everyone that I only got $15,000 to do my tape," Myla claims. "That's absolutely false. I got six figures for it and so did she. I have no idea where she got that number $15,000 from."
"And I know it was her who made it up because she was the only person besides my manager who knew I was doing the tape," Myla says. "We were friends but now we're definitely not. She has no friends and she's never going to have any acting like that."
For Myla, however, success is the best revenge. The sex tape came out at midnight last night, and she reveals, "I already have bookings for September! My schedule is just insane right now."
And despite the drama with Farrah, she has no regrets. "Making the tape was really fun for me," Myla explains. "It's not that big a deal. If it was like ten years ago it would be such a bigger deal. It's 2013. Everyone does it."