Farrah Abraham Attacked For Sex Tape: What An Example You're Setting For Your Child!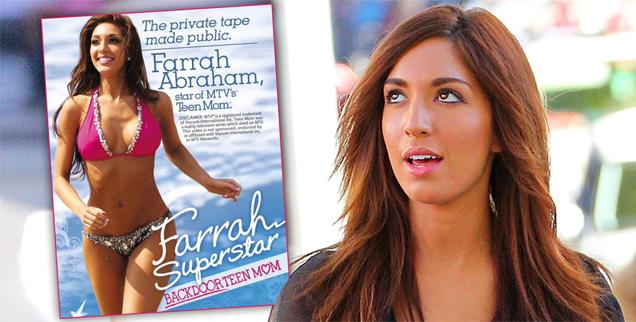 Farrah Abraham found herself at the center of a growing storm of controversy Monday as many people asked how she could justify filming a porn tape when she has a three-year-old daughter.
Even though the Teen Mom star made a reported $1.5 million for her "efforts" in her XXX debut, the reaction was swift and highly negative.
Teen Mom star Kaily Lowry tweeted: "I wish Farrah's porno title had nothing to do with Teen Mom. Not all of us want to be associated with that."
Article continues below advertisement
And that was one of the tame ones.
"What a perfect example ur setting for your child!!!!!!" tweeted one person, who represented a large segment of opinion as attacks stacked up against the MTV reality star.
Here is what other people tweeted about Farrah's tape:
"Let me tell you whoever paid 1.5 mill is a fool."
'My man was like who the (bleep) is that...Me: sum attention wh*re from Teen mom.. he's like sad 4 her kid."
Teen Mom Catelynn Lowell also took a shot, tweeting, "All I have to say Is she sounds like a dying horse!! U kno who I'm talking about."
Another person attacked Farrah with this tweet:
"You (censored) slut you obviously didnt think about your daughter!"
Last week Farrah posted a video trying to explain why she did the tape.
"So on the real, what would you do?" Abraham said on video. "You have been a single mother for four years, of and on dating loser-a-boys who always try to sell information, lie to you, manipulate, and you've just realized you're an awesome person and you deserve someone.
"Now that you've been 21 and you've been crying every night because you're single and you're alone, and so you make your own video to celebrate your awesome body, get your own sexy shots."
Farrah stayed mostly silent Monday as the attacks increased and tweeted she didn't want to talk about the tape.