Exclusive
Mila Kunis Ready To Have Kids With Ashton Kutcher — And Raise Them Jewish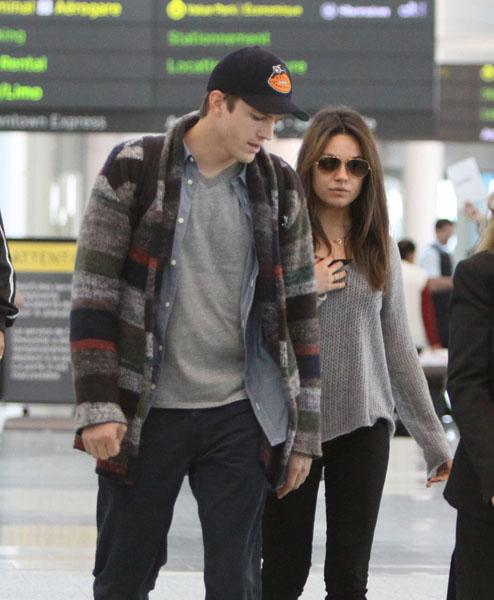 Are Mila Kunis and boyfriend Ashton Kutcher expecting?
The two have been sparking pregnancy speculation as Kunis has recently been wearing baggy clothes while Kutcher, 36, chews out following paparazzi!
And a source close to the couple exclusively told RadarOnline.com that Kunis "defnitely wants children with Ashton and wants to raise them in her Jewish religion."
When he was married to Demi Moore, Kutcher "dabbled in Kabbalah, the practice of Jewish mysticism. But Mila's family is much more traditional and less Hollywood," the source added.
Article continues below advertisement
"Think Coney Island style Russian immigrants. They want Jewish babies and Mila wants to give them to her family. Tradition is very important to her."
Still, the source said they might not marry before having children.
They dished: "They want to have a baby now and it's far more important to them than getting married."
But as RadarOnline.com reported, the big obstacle to officially settling down was just removed: Kutcher's divorce from Moore, 51, has been finalized, clearing the way for him to get engaged to Kunis.
Meanwhile, insiders are wondering if Kunis, 30, might already be pregnant by Kutcher, 35.
On Nov. 25, the actress tried to hide from paparazzi and the normally chill Kutcher told them to "get lost" when they were followed to Carlitos Gardel restaurant in Hollywood, Calif.
The next day, Kunis was spotted wearing a baggy sweater while grocery shopping for Thanksgiving food with Kutcher's mother, Diane.
If the couple has a baby, it would be the first for both of them.
"It's a dream for Mila and Ashton, and even if he doesn't fully convert, he's very much into the idea of having little Jewish babies," the source said.