Macaulay Culkin Lovey-Dovey In Paris With Beauty Resembling His Ex, Mila Kunis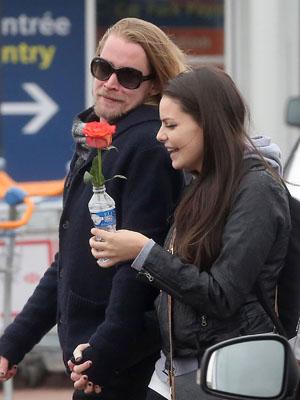 After he made headlines for reported problems with drugs last year, Macaulay Culkin resurfaced in Paris Friday with a lady friend closely resembling his ex, Mila Kunis.
Culkin, who became a breakout star playing Kevin McCallister in 1990's Home Alone and its' two sequels, gave the brunette beauty a rose when they met up.
"It was a simple gesture but very touching -- it suggests they must be very much in love," an eyewitness told US Weekly, adding that the actor's appearance was on the upswing as well.
Article continues below advertisement
Culkin and Kunis called it quits in 2011 after eight years together, and she's since found love with her one-time That '70s Show co-star, Ashton Kutcher.
"Macaulay was looking great -- nothing like the disheveled character we've seen in recent years. He's clearly got his act together."
Not so fast: One insider told the magazine The Good Son star, now 33, might also be in the City of Lights to pay a visit to pal Pete Doherty, the English rocker and Kate Moss ex who has a long, documented history of drug-related shenanigans.
"He enjoys being with an extreme character like Pete, and Pete likes him a lot, too," the insider said. "They sit up all night talking about the arts over bottles of wine and putting the world to right. They have become great friends."
Home Alone made more than $476 million worldwide, and spawned two sequels, cementing Culkin as the premiere child star of his time.