LeAnn Rimes' Ex-Hubby Dean Sheremet Upset 'Gay' Comment Was Used As A Slur, Implies She's Guilty Of Bullying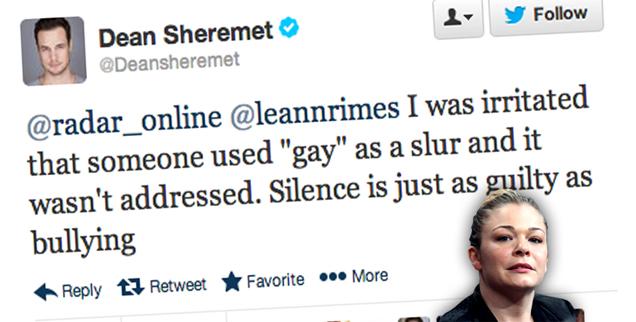 Dean Sheremet is firing back against his ex-wife LeAnn Rimes and the 'gay' Tweet that heard 'round the world.
After someone tweeted and old photo of Rimes and Sheremet over the weekend with the caption, "Remember the good old days when @leannrimes was just a chubby country bumpkin married to a gay dude?" Eddie Cibrian's wife laughed at the comment, prompting Sheremet to accuse her of bullying.
"Laugh away—Who's the bully now?" he wrote on Sunday.
Article continues below advertisement
"I don't do twitter wars, but I do hate ignorance. Being gay isn't offensive, not standing up for the truth is."
And on Monday he again tweeted at the issue writing: