Judge Orders Kris Jenner & Kim Kardashian To Come Face To Face With Ex-Stepmom For Lawsuit Settlement Talks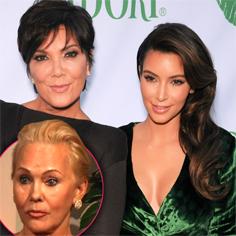 Kim Kardashian's engagement bliss is about to be shelved, at least for the day, because RadarOnline.com has learned the E! reality star has been ordered to come face-to-face with the woman she brandished as a "slippery snake" — her ex-stepmom Ellen Kardashian.
A judge overseeing the bitter legal fight between the Kardashians, their momager Kris Jenner and the widow of their late father Robert Kardashian has ordered settlement talks take place Wednesday.
Article continues below advertisement
"Ellen, Kim and Kris Jenner are all required to attend, along with their counsel," a source with knowledge of the situation told Radar.
As we previously reported, the Kardashians are suing Ellen for $500,000 in damages, claiming she sold their belongings to a number of publishers, which subsequently published the material in tabloid magazines.
In response, Ellen filed her own suit accusing her ex-step children of a litany of civil offenses, including defamation, intentionally inflicting emotional distress, a civil conspiracy to defame and the public disclosure of private facts.