Weight Loss Fraud? New Report Claims Kim K. REALLY Slimmed Down With $80K Worth Of Secret Procedures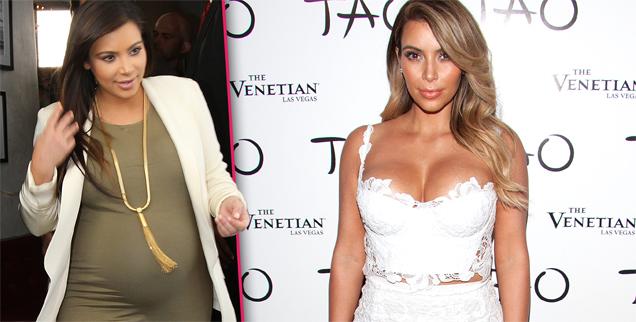 Weight-loss cheater! That's what Kim Kardashian has been branded in the latest report to question how the E! reality star dropped as much as 70 lbs since giving birth to North West five months ago.
"The truth is, she took the easy way out," declares Life & Style, claiming that Kardashian, 32, has been secretly visiting a Beverly Hills cosmetic plastic surgeon to get work done, including fillers, stretch-mark treatments and a fat-reducing ultrasound procedure on her stomach that costs up to $5,000 a session.
Article continues below advertisement
In all, the regiment has totaled $80,000, it's alleged.
According to the magazine's insider, the mother-of-one gets the Coolaser treatment, which chills the skin and then uses light pulses to vaporize skin cells — removing wrinkles, scars, saggy skin and stretch marks.
"Kim is desperate to be sexy again. She wants to go back to the way things were before North was born," the source said.
"She loves her daughter, but she loves herself and her image a lot, too."
While the reality star's rep denied to the publication that she's being treated by Dr. Ourian, insiders told the mag that she's going to great lengths to keep her visits clandestine.
During one trip to a laser hair-removal clinic, she allegedly pretended to be visiting the Pilates studio next door!
"She even wore workout clothes to throw off the photographers and begged them to make it look like she was going inside to work out, not to get laser treatments," a source claimed.
Another reason behind Kardashian's extreme measures to slim down: her upcoming wedding to fiancé West.
Dished another source: "She wants to be the most beautiful bride, especially since all eyes will be on her. All she talks about is losing the baby weight and wanting to wear those skintight outfits again."