Exclusive
Kelsey Grammer Hasn't Seen His Children With Ex-Wife Camille In Six Months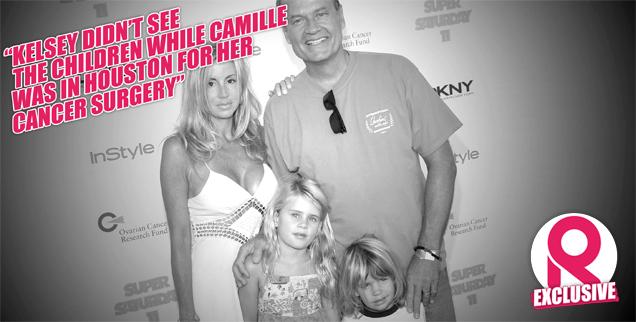 Kelsey Grammer hasn't seen his two children with ex-wife, Camille in over six months, including the time that the former Real Housewives of Beverly Hills star was in Houston undergoing surgery for cancer, RadarOnline.com is exclusively reporting.
Camille recently revealed on Twitter that she had reached out ex-hubby Kelsey's camp, she doesn't have direct contact with the Frasier starand that he never responded to her or the children. When asked by a fan if Kelsey had contacted her or the children about the cancer diagnosis, she responded, "No, Kelsey has never contacted me or the kids about my health."
Article continues below advertisement
However, RadarOnline.com has learned exclusively that "Kelsey hasn't even seen Mason, 12, or Jude, 9, in over six months.
"The children remained in Southern California while Camille underwent a radical hysterectomy for endometrial cancer in Houston. She wanted the kids to remain in school, and they were well cared for. Kelsey didn't see the children while Camille was in Houston for her cancer surgery," a source said about the situation.
Article continues below advertisement
The blonde beauty "will begin a grueling round of chemo and radiation in the next three weeks to treat the endometrial cancer. The good news is that Camille is young, and in very good health, and the cancer was caught early," a source previously told RadarOnline.com.
Sources tell RadarOnline.com that Camille will likely undergo the chemo and radiation at a hospital in Southern California.
Her rep previously said, "The surgery went well and she is expected to make a complete recovery following a significant recuperation period."
The kids "are doing remarkably well, given everything that is going on with their mom, but they miss their dad. Camille has always encouraged Kelsey's relationship with the kids and wants him to be a part of their lives," the insider added.
Kelsey's rep denied the claim to RadarOnline.com, telling us "Your sources are full of it and clueless as well."