Katie Couric Yahoo! Deal To Be Announced Monday; Talk Show 'Katie' Not Over Yet — But Will Only Survive If $35M Budget Slashed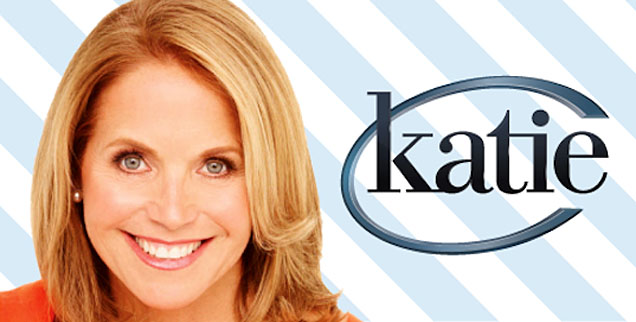 UPDATE 9.08 a.m PT -- As we reported, Yahoo! has announced Katie Couric is joining the company as Global Anchor. "Beginning in 2014, Katie will help develop Yahoo News' coverage with a growing team of global correspondents who will report on live world events, anchor groundbreaking interviews with major newsmakers and thought leaders, and much more. In addition to her new role at Yahoo, Katie will continue to host her syndicated daytime talk show, Katie," a news release said.
Article continues below advertisement
---
Katie Couric will announce her new gig at internet giant Yahoo! on Monday — a move that will inevitabley prompt speculation about the future of syndicated chat show Katie.
But RadarOnline.com has learned that despite reports suggesting the 56-year-old television veteran's daytime program was already dead, a decision on its fate has not yet been made, a source with knowledge of the situation revealed.
Disney-ABC Domestic Television, the syndication division behind the show, has commitments from local stations to carry it through the end of this television season.
"A decision about whether 'Katie' will continue will likely be made by the end of the year, once November sweeps ratings come out," the source said.
"A key consideration will be whether Katie wants to continue the show, with a revised budget. Her new deal with Yahoo! would allow her to do both, if she wanted. But the budget will have to be slashed."
Article continues below advertisement
'Katie' remains one of the most expensive shows to produce in the fading daytime category.
The initial annual budget for the talk show was $50 million, but according to the Hollywood Reporter, it was brought down to $35million for its second season — still well above the norm with most shows operating for about $20 million a year.
Another source told RadarOnline.com, "Katie would also have to take a pay cut if the show continues," said to be a reduction in her reported $20 million salary over two years.
Having relinquished her role as a special correspondent ABC News on Friday, the deal with Yahoo! will be revealed at Midday on Monday, an insider close to the company confirmed.
One report suggested she will be named "Global News Anchor" and host a news and interview-driven program on Yahoo's highly trafficked home page.
A source told RadarOnline.com it was likely to premiere in early 2014, though an exact date has not yet been confirmed.