Exclusive
Katie Couric Jokes Her Fiancé Was 'Pathetic,' & 'Begging' Before Her Surprise Proposal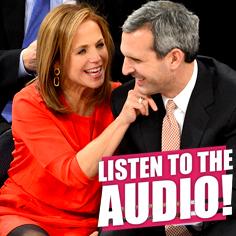 Katie Couric is so stubborn she almost didn't get engaged and she joked that she thought her boyfriend was being "pathetic" when he asked her to go for a walk before popping the question.
The famed talk show host described the ruse John Molner , 50, used to get her out to the beach in the Hamptons for the proposal and RadarOnline.com has the audio the funny tale she told to Scott & Todd on 95.5 PLJ Radio in New York City on Thursday.
Article continues below advertisement
LISTEN HERE:
https://media.radaronline.com/brand-img/wp-content/0x0/2013/09/katie-couric-with-scott-todd.mp3
"It was actually very funny," Katie, 56, explained about the situation.
"He said 'Hey do you want to go for a walk on the beach? And I was like 'Not really,' and he said 'Come on' and I said 'Honestly I'm really tired, why don't you just take a bike and you go for a walk on the beach?'"
Laughing, Katie said he asked her again and she told Scott and Todd she went because "I was like 'OK this is sort of pathetic, he's begging.'"
Continuing her silly story, Katie said that when they got to the beach he started professing his love for her, but each thing he said she basically dismissed.
"He said 'I brought you here for a reason,' and I was like 'Why?' and he said 'I wanted to tell you that I really love you,' and I'm like 'I know that.'"
After a series of loving statements, the University of Virginia graduate fessed up that she really didn't understand where he was going with his gushing so he had to tell her point blank.
"He said 'Couric I'm trying to propose to you!'"
Katie said she's usually in control so she was very surprised by the engagement. "He was so stealthy about it. I was incredible impressed that he was able to pull it off!"