Exclusive
The Curse Of The Kardashians: Kanye West's Popularity Plunges 66% With Fans… Ever Since He Started Dating Kim!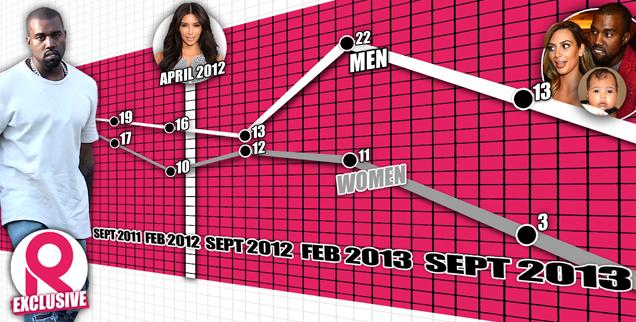 Kanye West is half the man he used to be since becoming romantically involved with Kim Kardashian.
In less than two years, the 19-time Grammy-award winner's likability has nosedived by a whopping 66 percent, according to the influential Q Scores, a closely watched measure of recognition and popularity that marketers use to evaluate celebrities' appeal.
Before West began dating the 33-year-old Keeping Up With The Kardashians star in April 2012, his score was high — a 17 among women aged 18-49.
Article continues below advertisement
What's more, the 36-year-old father-of-one was rated even more lofty -- a score of 19 -- among men 18-34 dating as far back as February 2011.
But shockingly, West's popularity has plummeted to a mere 3 among women 18-49, the latest results from September — obtained exclusively by RadarOnline.com — reveal.
He's hemorrhaged popularity among his core fan base of men too, but not as significantly as women: West's most recent Q Score among the 18-34 male demographic was a lowly 13.
We can reveal that West's fading stardom in the influential poll — also used by companies and advertisers to help make major endorsement decisions — began several months after his relationship with the E! star went public and has continued amid his clashes with the paparazzi and other celebrities.
"Kanye has had a significant drop among women," Henry Schafer, Executive Vice President of the Q Scores Company, told RadarOnline.com. "It's surprising."
Article continues below advertisement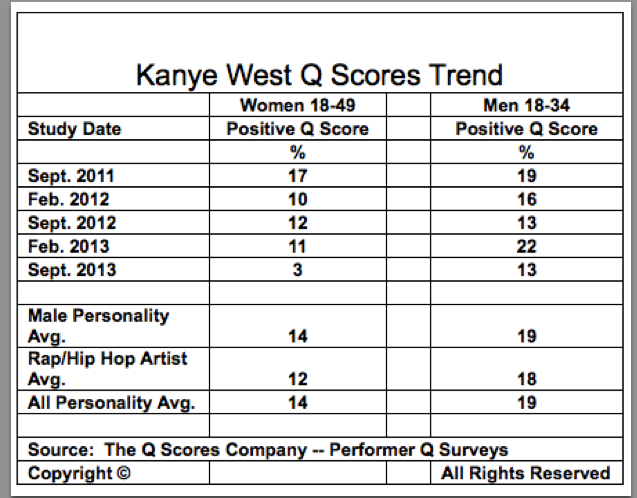 Schafer said the average score of a popular hip hop artist ranges from 12-18, while among male celebrities, it should typically be 14-19.
The demise is also consistent with the fading attraction of his baby mama Kardashian and her momager Kris Jenner, who as RadarOnline.com previously reported, also had their likability plummet more than 50 percent.
Kardashian's attraction to the general public has plunged from a 9 score in 2011 — right after she married ex-husband Kris Humphries — to a disappointing 4 last September, while Jenner, who last month announced her split from husband Bruce after 22 years, was a 12 in 2011.
Today, she is a lowly 4, despite having her own talk show on FOX!
The one shining light for West… his familiarity remains well above average: Among Men 18-34, he's about 70 percent and among women 18-49, it's 80 percent.