Justin Bieber Groupies Have Phones Taken Away, Presented With Contracts Before Party Starts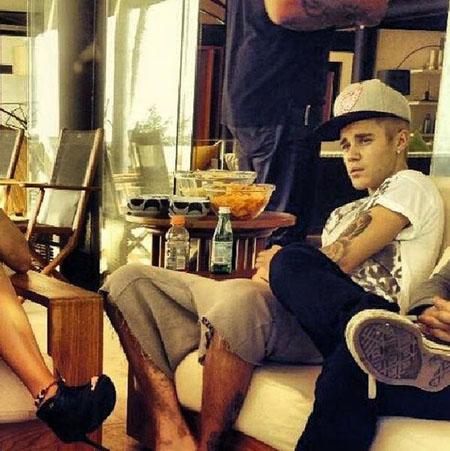 It seems as if Justin Bieber and his people are getting better at the damage control game.
Before spending time with the entertainer at his rented Brazilian mansion Sunday, a group of girls had their phones taken away, and were asked to sign non-disclosure agreements, according to an 18-year-old student who was there.
"We all had to sign contracts saying we wouldn't take any photographs and if we did we agreed not to publish them," Marina Binimeliz told the U.K.'s Mirror. "I was only given my phone back when I left. I tried to take a picture of the contract, but they whipped the phone out of my hand before I could do so."
Article continues below advertisement
Binimeliz said that she and nine other women accompanied the "Baby" singer to the property, where his people had set up a banquet of items such as "peanuts, Doritos, crisps, chicken nuggets" and "lots of chocolate," some of which was consumed by the singer himself.
"I saw Justin stuffing himself with Toblerone," she said. She added that the house reeked of marijuana, though she didn't see the Canadian star himself partake in any.
She said Bieber got caught up in the heat of the moment, at one point jumping onto one of the mansion's walls and yelling, "I'm the king of the world!"
It's been a whirlwind few days for the singer in Brazil, from a reported run-in at a brothel to an abrupt ending to a show after he was pelted with an object from the audience.