Bad Santa! Inside Gwyneth Paltrow's 'Ridiculous' $23K Goop Gift Guide -- Is She Out Of Touch With Reality?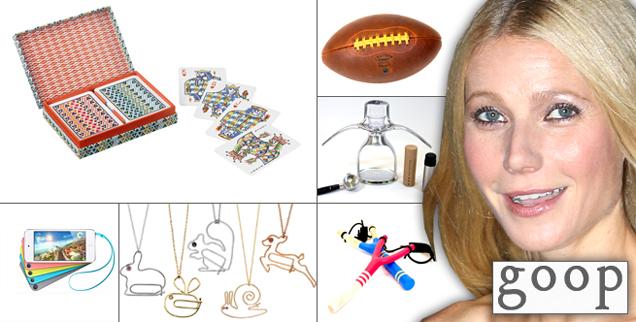 She's making a list, checking it twice, and withdrawing more than $23,000 from the bank. That eye-watering sum is how much you'll have to splurge this holiday season if you want to gift the Gwyneth Paltrow way. The Goopy goddess just released her holiday gift guide, full of pricy items that critics are already calling "ridiculous" and "out of touch."
For stocking stuffers, of course no regular knick knacks will do. Instead, Paltrow recommends a $258 (£160) set of playing cards by luxe design house Hermès Paris. If you're hitting holiday parties, she notes, it "makes a great hostess gift." And instead of crayons or markers, why not opt for a $75 brass colored pencil set by Jayson Home? Says Paltrow, it will help "beautify your desk." You can also use them to write in the $232 Debossed Sloane Stationery leather notebook she recommends. Finally, forget gift cards to your local coffee shop. Why not opt instead for a $173 hand-cranked espresso maker? It's "prefect for a dude," she promises.
Article continues below advertisement
For the ladies, how about a $531 pair of pajamas? Monogramming can add an additional $564 to that price, but the company does embroidery for the royal family, so you know they must be good. Or, opt for a $1,603 "paperclip necklace" by Hillier. Made out of 18ct yellow gold with a champagne diamond, it does indeed look like an office supply on a chain, only better.
Kids can get a taste of the good old days with a $100 slingshot from 72 Editions, or a $130 Bespoke Global "old school" leather football. Her own daughter, Apple, however, asked for an iPod 5 ($229 - $399), according to the guide, plus a $50 water-proof case so she can take it in the pool.
In all, the items on Paltrow's essential shopping list add up to a whopping $23,066.92 -- a price that includes two signed copies of Paltrow's cookbooks.
Online commenters have called the list "ridiculous" and "out of touch," two words that have been applied to many of Paltrow's previous gift and style guides. But Paltrow insists "it doesn't matter what people who don't know you think of you."
Do you think she's delusional or is she giving her fans what they want? Let us know in the comments!