Exclusive
Ca$hing In: Farrah Fawcett's Nephew Auctioning Late Actress' People's Choice Award, Movie Memorabilia… Even Her Driver's License & Passport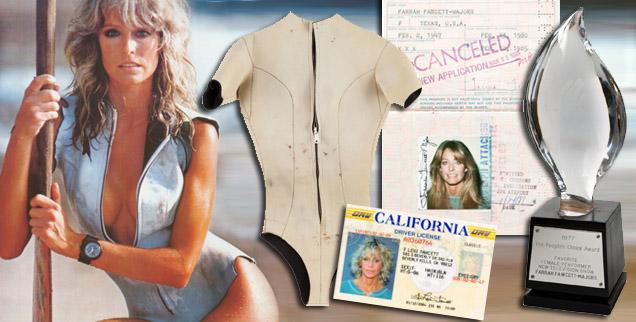 The nephew of Farrah Fawcett has put up for auction a cache of the late Charlie's Angels star's personal belongings which oddly even includes her driver's license and passport.
Gregory Walls — an heir to much of Fawcett's personal items, including jewelry, clothing, furniture and collectibles after her death of cancer in 2009 — quietly listed 67 items with Dallas-based auction house Heritage Auctions, RadarOnline.com has exclusively learned.
Article continues below advertisement
The centerpiece of the lot is Fawcett's 1997 People's Choice Award, which she won for Favorite Performer for her role as Jill Monroe after starring in just one season of Charlie's Angels.
Other items set to go under the hammer include a wetsuit/bathing suit from the 1979 Paramount Pictures film Sunburn — it is expected to reach $1200 — and Academy Award and Golden Globe nomination certificates.
Beyond the memorabilia, Walls is bizarrely even selling the actress' last driver's license, issued by the State of California, which notes the star's name as "F Leni Fawcett" and expires "02-02-09" — Fawcett's last birthday.
He's also auctioning her last American Express credit card and her passport, dated Feb. 13, 1980, which depicts a color headshot of the 33 year-old actress and is signed in black felt-tip ink "Farrah Fawcett-Majors".
It has various foreign entry and exit stamps from countries including England, France, Italy, Mexico, Switzerland and Venezuela, ending on March 25, 1985, when the passport was canceled.
Article continues below advertisement
A collection of jewelry and nine pairs of designer shoes from Louis Vuitton, Manolo Blahnik, Gucci and others are also set to go under the hammer.
The fine print reveals that included in the sale of each item is a "Letter of Provenance signed by Gregory S. Walls, Farrah Fawcett's nephew and consignor of The Personal Property of Farrah Fawcett."
In a catalogue, Houston-based Walls said he decided to auction the belongings after the family read thousands of get well cards and letters that were sent to her.
"It was at that moment that I felt that I would do my best to give her fans a chance to possess some of the things that were special and dear to Farrah," he said.
"The inclusion of amazing pieces of jewelry (many of them one of a kind), personally annotated scripts, costumes from her TV and film work, awards and accolades, and other personal effects make this a really special offering."
He said the family would be donating a portion of the proceeds to The Farrah Fawcett Foundation — an organization raising funds for cutting edge cancer research and prevention — "so they can continue to fight the battle that Farrah fought so valiantly."