Exclusive
Fight Over Farrah: University Of Texas Fighting Ryan O'Neal's Gag Order On His Fawcett Infidelities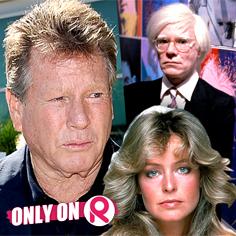 Ryan O'Neal's bid for a court-ordered gag order preventing any discussion of his romantic infidelities behind-the-back of Farrah Fawcett should be rejected, lawyers challenging the veteran Hollywood actor said Wednesday.
RadarOnline.com broke the story: The Love Story star made an eleventh hour courtroom bid to muzzle lawyers from the University of Texas who are suing him over the alleged theft of a multi-million dollar Andy Warhol portrait of the Charlie's Angels star, as it would "smear" his character, invade his right of privacy and "could only serve to mislead the jury and unduly prejudice" the Oscar-nominee.
Article continues below advertisement
In an opposition to O'Neal blackout bid, filed on Wednesday and obtained exclusively by RadarOnline.com, the University said the star had no right to privacy because he shamelessly wrote about it — specifically the moment when Fawcett walked in on him in bed with actress Leslie Stefanson in 1997 — in his autobiography.
"While his infidelity may have been private at one time, today it is a matter of public record because O'Neal chose to write and publish a book which recounts in great detail exactly what he seeks to exclude," the University of Texas argued.
The University of Texas has sued O'Neal in a bid to recover the Warhol, said to be worth up to $30 million, which it says the blonde bombshell bequeathed to it in her living trust.
What's more, Fawcett's alma mater said the gag order should not be implemented because the issue at the crux of the legal fight is why the Warhol was in O'Neal's possession.
"It is O'Neal — not UT — that made his infidelity highly relevant to the ultimate issue in this case through his own sworn testimony," lawyers said.
Article continues below advertisement
"Ms. Fawcett took the Warhol Portrait from O'Neal after their 1997 break-up and had possession of it for the next eleven years because she owned it.
"O'Neal has a different explanation — an explanation that makes no sense given the undisputed details of how and when Ms. Fawcett discovered O'Neal's infidelity, their subsequent break-up and her reclaiming her portrait.
"This evidence is highly relevant to why Ms. Fawcett took what she owned from Mr. O'Neal's beach house and reclaimed her portrait.
"Thus, the details concerning how, when and why Ms. Fawcett and O'Neal broke up in 1997 are highly relevant to the credibility of O'Neal's only explanation for why Ms. Fawcett was in possession of what he claims was his property for more than a decade prior to her death."
The case began in a Los Angeles court on Wednesday.