Faith Hill Exposed: Her Addict Brother Reveals Shocking Family Secrets -- Drugs, Arrests, A Secret Adoption & More!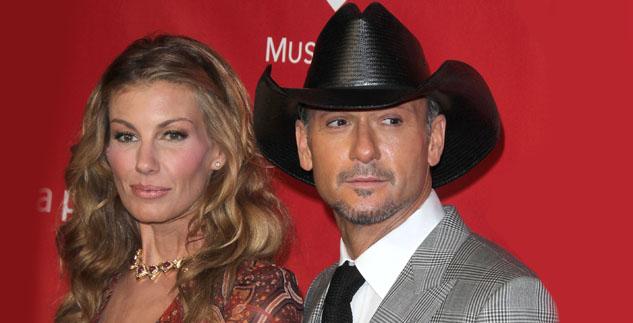 For years, Faith Hill has been a country music princess. But the real story of her life is no fairy tale. As Hill battles marriage troubles with her husband, Tim McGraw, her long-lost brother is stepping forward for the first time ever to offer his support for a woman who's already weathered a few storms. Hill and McGraw are "both amazing, down to earth people," her brother, Zachary White tells The National ENQUIRER in their latest issue. "Their love and support have been nothing short of extraordinary." And so, sources tell The ENQUIRER, he is desperately trying to help keep them together.
Article continues below advertisement
Hill first connected with her brother in 1993, after finding out that she'd been put up for adoption at birth. The initial joy of finding her mother, Paula White, and brother, Zachary, was soon rocked by some bombshell news: Her father, Edwin White, had died in a car crash when Hill was just ten. And her new brother had been battling addiction for years.
White was first arrested in November 1990 for trying to snatch a woman's purse in Winter Park, Fla., according to a police report obtained by The ENQUIRER. He reportedly confessed to police that he tried "to take the purse to support his crack cocaine habit." He also admitted to grabbing another woman's purse four days earlier in the same parking lot.
But that brush with the law was not enough to slow him down. Nearly two months later, he was arrested again for stealing a silver-colored Mazda and trying to extort the vehicle's owner for $200.
He eventually pleaded no contest to a third-degree grand theft felony and three misdemeanors, for which he was sentenced to two 18-month sentences of community control and ordered to complete a one-year residential program that included drug counseling.
Article continues below advertisement
White was on the road to recovery when he met his sister three years later, and credits her with his success at living clean.
"I made my share of mistakes in the past, but Faith showed me that I could be a better person," he explained to The ENQUIRER. "I turned my life around, and I owe much of that to Faith and Tim. If it weren't for them, there's no telling where I'd be now."
"Faith is a beautiful, amazing, person," he continued. "And she's forgiven me for the mistakes I made when I was younger."
In fact, the Florida businessman has visited his sister's homes in Tennessee, California, and the Bahamas. A trusted member of their inner circle, he's now trying to repay the favor by saving their marriage, The ENQUIRER claims.
"He's acted as a mediator between Faith and Tim during some of their worst blowups and helped them talk through their problems," a source told the mag. "In some ways, Zachary has saved Faith and Tim's marriage -- for now.
For more on Faith and Tim's marriage troubles, and how White is helping the couple overcome them, pick up the latest issue of The National ENQUIRER, on stands nationwide Thursday!