Faith Hill Hits A Low Note With Dramatic Weight Loss, Plummets To '115 Pounds,' Expert Says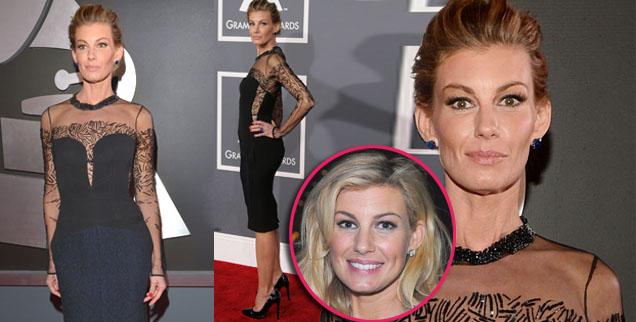 Country singer Faith Hill has long been known for her diligent workout regime and dedication to her diet, but at the Grammy Awards on Sunday the 45-year-old's recent dramatic weight loss had taken a toll on her stunning looks.
"Her neck is extremely gaunt and her clavicles, they are ripping that bodice," Dr. Fred Pescatore, author of The Hamptons Diet, who has not treated the star, tells RadarOnline.com in an exclusive interview.
Article continues below advertisement
"It is certainly very aging on her and is an unhealthy weight," the nutritional expert opines, adding that fat injections in her face would
give Faith a more youthful and healthy look again.
Meanwhile, nutritional expert Dr. Majid Ali estimates 5'9" Hill's weight at as low as 115 pounds, and warns: "Her color and general look is good, but she should not go lower."
Hill's wardrobe choice on the biggest night in music was far from flattering on her new thin frame, which is a far cry from the sexy voluptuous curves she boasted in 2010.
"Little black dresses have a way of further slimming a person who is already tall and very slender," NutriFit CEO Jackie Keller says. "The dress she's wearing may be purposely looser than it needs be, as is often done when someone is trying to look more full-figured, rather than thinner."