Exclusive
Cynthia Bailey Relieved Her Daughter Noelle Likes Boys: 'At Least I'm Not Having To Deal With The Fact That You Like Girls'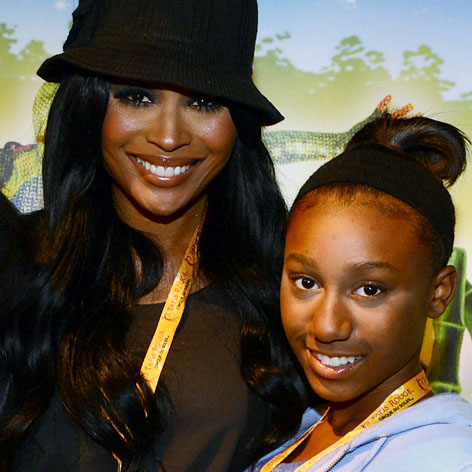 In this season of The Real Housewives of Atlanta, Cynthia Bailey is not only dealing with financial troubles, but also with the fact that her teenage daughter Noelle, who turns 14 on Nov. 9, is starting to date — and Cynthia told RadarOnline.com that she is relieved that Noelle isn't interested in the same gender.
"Noelle just started high school and she likes boys and boys like her, which is totally expected and normal," Cynthia told Radar in an exclusive interview.
Article continues below advertisement
"It's interesting because she has girlfriends who like girls, so I'm like, 'Alrighty then.' There's nothing wrong with that, but on the flip side, I'm like, 'Are you ready to like boys?'
But the happy mom revealed she told her daughter, "Okay, at least it is boys that you like. At least I'm not having to deal with the fact that you like girls."
Dealing with a teenager isn't always the easiest job.
"It's a lot raising a teenager in this day in time," Cynthia said. "When I started to be curious when I entered high school, my mom was not the kind of mom who was like, 'Honey, just tell me everything. Let's be best friends.' I never had any of that."
Cynthia just broke the rules growing up.
"I just kind of was feeling what I was feeling," she explained. "I snuck around. My mom said I couldn't go, so I figured out a way to go."
So now, Cynthia doesn't want Noelle to have that kind of teenage experience.
"I don't really want Noelle to go through those things," she said.
Cynthia tries to have a different kind of relationship with her daughter than she had with her mother when she was younger.
Article continues below advertisement
"My schedule is way too busy for me not to be connected to her," she said. "She's my only child. I can know what's going on and I can make her feel comfortable and safe and keep our communication open."
As a result of this type of parenting, Noelle shares with Cynthia.
"My teenager is like, 'My friend Arthur who is a boy, we want to go the movies. Can you take us?'" Cynthia said. "So Peter and I actually kind of have fun doing our date night double dating with Noelle and her friend that's a boy."
But, sometimes, other parents don't agree with Cynthia's decision to let her daughter date.
"I may get a lot of flack from some moms who may think, 'She's too young or what are you doing?'" Cynthia said. "But on the other hand, a lot of mothers are going to love the fact that my only goal is that I make sure I know what's going on with Noelle."
Cynthia believes this parenting philosophy helps her daughter stay out of trouble.
Article continues below advertisement
"I'm not into her going to somebody else's house and sneaking around," she explained. "When you put them in an environment where they feel like they can come to you and talk to you, it takes all the sensationalism out of even having a boyfriend."
Cynthia even thinks that this type of communication helps Noelle to set her priorities straight.
"Now, I'm asking, 'Where's Arthur? Is he coming over this week? What's going on?' Cynthia said. "She's like, 'Mom, not this week. I just need some time. I've got to focus on school.' It's almost like reverse psychology."
"I don't think anyone can tell you how to parent your child," Cynthia concluded. "It works for me. I just want to know what's going on at all times — and she feels comfortable telling me."