Courtney Stodden Busts Out Of Tiny Top While Out With Estranged Hubby, But Her Ring Finger Is Bare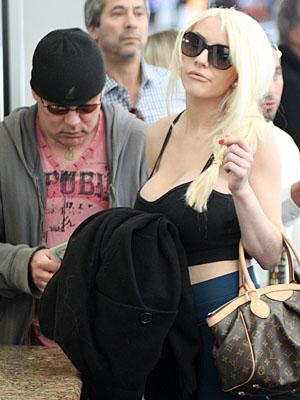 Courtney Stodden can't make up her mind as to which man over 50 she's going to devote her time to, that's for sure!
The controversial Teen Bride, soon to be a Teen Divorcee, has separated from her husband, 53-year-old actor Doug Hutchison, and says that she wants to be on her own, but RadarOnline.com has new pictures of them two of them together again.
The buxom blonde poured her DDs into a tiny black crop top, a pair of skin tight jeans and sky high hooker heels a pair of bug-eyed sunglasses as she and her estranged hubby hit the streets of LA.
Article continues below advertisement
Just hours after she was spotted out on the town bumping and grinding against pr exec Edward Lozzi, she was back by the side of her hubby, who dressed down in a t-shirt and beanie.
However, even though RadarOnline.com reported that the pair recently were telling fans that they are "working" on their relationship, it was a telling sign that neither Courtney nor Doug had on their wedding rings.