Chris Brown Ordered Back To Rehab & Must Take Medication For 'Aggressive Behavior'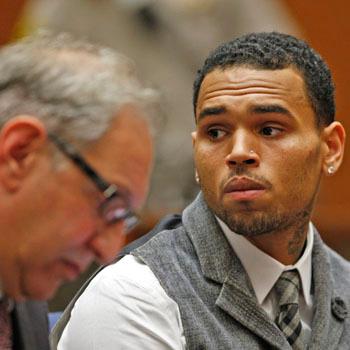 UPDATE: According to the probation report, Brown was discharged from the rehab facility after getting angry with his mother, Joyce Hawkins, during a family counseling session and threw a rock at her car window. Brown also suffers from ADD and had been depressed in recent weeks.
Chris Brown was ordered back to rehab for 90 days of anger management on Wednesday and must take medication his doctor has prescribed for his aggressive behavior, RadarOnline.com is reporting.
Article continues below advertisement
During the brief hearing on Nov. 20, Brown, who remains on felony probation for assaulting former girlfriend Rihanna in 2009, the Los Angeles District Attorney didn't ask that his probation be revoked at this time.
Brown was arrested in Washington, D.C. several weeks ago for getting into a fight.
Judge James Brandlin didn't set a probation violation hearing, but ordered a full official report from the Washington arrest.
RadarOnline.com broke the story that Brown was out of rehab when he was spotted at a sushi restaurant, just two weeks after entering in Malibu.
A rep for the singer previously told RadarOnline.com, "Chris is continuing his rehab program as an outpatient and is also completing his community service in the Los Angeles area. He appreciates all of your encouragement and support."
In addition to returning to rehab for 90 days, the singer must also submit to periodic drug testing and can't leave Los Angeles County.
But Brown will be allowed to go to Washington, D.C. for any future court hearings surrounding his assault charge.
Brown must appear at the next hearing on Dec. 16.