Exclusive
Charlie Sheen's Shocking Family Secret: 'Anger Management' Star Tells Child Protective Services Ex-Wife Brooke Mueller Aborted Triplet 'Because She Only Wanted Twins'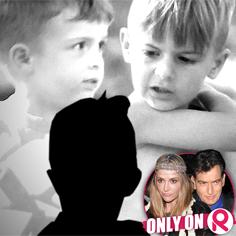 Charlie Sheen has told child protective services that his ex-wife Brooke Mueller was actually pregnant with triplets but terminated one of the fetuses behind-his-back because she apparently only wanted twin sons, RadarOnline.com has learned.
The Anger Management star, 48, made the shocking confession to the Los Angeles Department of Children & Family Services as he believes it strikes at the heart of Mueller's "credibility and motivation," a source with knowledge of the situation revealed.
Article continues below advertisement
"Charlie has told DCFS that, at the time, Brooke told him that she had lost one of the triplets, but he later learned that she had terminated one of the fetuses," the insider said.
"Charlie insisted that DCFS document the incident as part of its case file because it goes to Brooke's credibility and motivation. In short, Charlie's position is that Brooke has always been a lying drug addict."
Mueller — who starred in the 2011 Oxygen series The World According to Paris — got pregnant via in vitro fertilization, multiple sources have confirmed.
Article continues below advertisement
It's yet another stunning twist in the butter custody battle between Sheen and Mueller over the pair's troubled twins, who are expected to be placed in the temporary custody of the Palm Beach socialite's brother Scott as soon as Tuesday.
It follows Sheen's second ex-wife Denise Richards' explosive letter to DCFS which detailed how Bob and Max have transformed from "kind and loving" young boys to "zombie-like" who exhibit "extreme violent mood swings" and "violent behavior."
A representative for Mueller had no comment citing gag order imposed by the judge.