Exclusive
Brittany Murphy's Father Claims Her Mother Sold Actress' Personal Documents & Belongings To Auction Website For Profit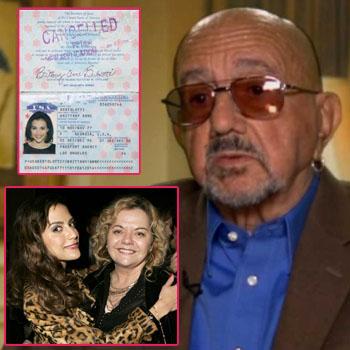 Article continues below advertisement
"Sharon joined into Julien's Auctions and in April all of Britt's things were sold to the highest bidder," Bertolotti told Radar.
"Then re-sold on eBay."
Bertolotti provided a document dated April 3, 2013, in which he attempted a Cease and Desist against the Beverly Hills auction site to prevent them from selling Brittany's belongings.
"This communication serves as a formal legal 'Cease and Desist' demand effective immediately regarding the sales and exploitation of Brittany Murphy aka Brittany Bertolotti, Brittany Murphy's property, memorabilia, intellectual, public, private property or her likeness in any capacity," the letter reads.
"All elements surrounding Brittany Murphy's Estate are fraud upon their face and material misrepresentations."
However, the auction happened and Bertolotti claims the items were then sold on eBay.
"I tried stopping Sharon from auctioning off Britt's things for profit," Bertolotti tweeted on Monday.
"She sold Britt's passport."
A link to some of the items put up for auction can be found here.
A denim outfit that Brittany once wore to the MTV Video Music Awards started at $600 and sold for $1,536 while a bra she wore for a shoot with Maxim magazine went for $384.
Article continues below advertisement
One of the more profitable items was an outfit Brittany wore in her movie Uptown Girls, that sold for $1,920.
Brittany and her husband Simon Monjack's shocking deaths are being revisited after Bertolotti had samples of his daughter's blood and hair tested by an independent lab that reported "heavy metals and toxins" found, implying she was poisoned.
The official cause of death for both Brittany and Monjack was pneumonia and acute anemia.
Bertolotti claims foul play was involved and is calling for the District Attorney to reopen their death investigations.
"Brittany was OUR baby, not just mother's," he tweeted.