Step Away From The Keyboard! Brandi Glanville Wades In To Yet Another Twitter War With LeAnn Rimes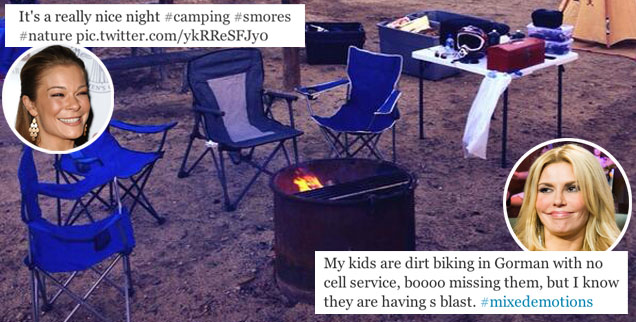 Has Brandi Glanville been drinking and tweeting again? The Real Housewives of Beverly Hills star waded in to yet another Twitter war with frenemy LeAnn Rimes on Monday night, and RadarOnline.com has all the details.
Rimes vs. Glanville round infinity plus one started off on Monday when Rimes tweeted a mysterious pic of four empty chairs around a campfire. "It's a really nice night #camping #smores #nature," she tweeted. And though she didn't mention any of her fellow campers by name, fans interpreted the tweet -- which showed a child-size teepee in the background -- as intended evidence that she was spending time with Glanville's ex-husband, Eddie Cibrian, and his kids by the RHOBH star, Jake and Mason.
Article continues below advertisement
"Notice tho-4 chairs! Her, Eddie and boys??" @RugerPistol tweeted. "…She just wants people to think they are together."
User @dudernation responded, "It's just so obvious, sad, and pathetic."
But instead of letting it be, Glanville chimed in to insist that her sons were not with tweet-happy Rimes.
"My kids are dirt biking in Gorman with no cell service," she tweeted shortly after Rimes released her pic.
User @Faithfox responded, "LeAnn is tweeting camping pix … guess her phone is working?"
But still others insisted that Glanville's tweet was proof the "pic was staged."
Hours later, Glanville's Twitter topic was Rimes yet again, as she addressed recent reports that she is not over her ex, Cibrian.
"Omg … didn't need to wake up to this BS," she tweeted Tuesday morning. "ive sic been over my break up foe sic some time that doesn't mean my trust issues dont affect me now …"