Exclusive
Battle Of The Exes! LeAnn Rimes Slams Brandi Glanville, Complains She 'Can't Deal With The Lies Anymore'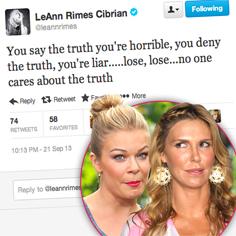 LeAnn Rimes versus Brandi Glanville, part 982.
The most famous feud in Hollywood will never die down thanks to tweet happy LeAnn, who started another firestorm over the weekend by attacking her Eddie Cibrian's ex-wife for seemingly no reason.
When a friend of hers slammed a preview of the Real Housewives of Beverly Hills showing Brandi talking about rehab, LeAnn couldn't resist laughing about the jab and that caused a firestorm of notes where she let loose on how she really feels about Brandi.
Article continues below advertisement
LeAnn continued to write to her followers, saying that she only wanted to tell "the truth" about Brandi, but that she gets slammed for everything she says, writing: You say the truth you're horrible, you deny the truth, you're liar.....lose, lose...no one cares about the truth."
An exasperated LeAnn says that she just wants to set the record straight: "join the club but I can't deal with the lies anymore. I'm a woman w/ the right to stand up for my family and truth."
Brandi couldn't resist writing about LeAnn's tirade, telling her own fans "I refuse to engage in this obvious attempt to get under my skin, even tho I really want to!"
Was LeAnn out of line or just telling the truth? Tell us what you think in comments.