Exclusive
Olympic Skier Bode Miller Returns Fire After Losing Custody Battle Over Baby Boy He Fathered With Ex-Lover: She Wants 'Revenge & Attention'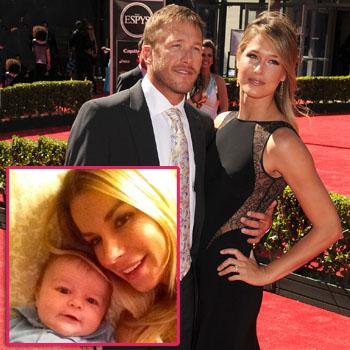 A New York court stripped Bode Miller of custody of his infant son last week after a contentious battle with the child's mother, a former marine.
Now, RadarOnline.com has uncovered a blog that has since been deleted during which the famous skier and his wife detailed for the first time their side of the story.
In a blog titled "The Honest Truth," which has since been deleted, the Olympic gold medalist alpine ski racer and Morgan Beck Miller, his wife since 2012, penned a vicious take-down of Sara McKenna, who they claim is "misleading" the public about the facts of the case.
Article continues below advertisement
"It's so sad that this situation has escalated to such a public forum and that the privacy and well being of a little boy has been placed last to a mother's desire for revenge (and) attention," the couple said in their rant.
That little boy was born on Feb. 23 this year.
Such is the bitter battle for custody, his name is even in dispute: McKenna named him Sam, while the Millers refer to him as Nathaniel. What's more, Miller and his wife have alleged that McKenna didn't even put the 36-year-old World Cup racer on the child's birth certificate.
"From the moment I learned from Bode that Sara was pregnant, I reached out to Sara to offer my support and friendship," wrote Morgan, who said their attempts to co-parent had been repeatedly rebuffed.
"I explained to her that we wanted to help and if there was anything we could do on her behalf, whether it be grocery shopping, helping with the nursery, attending doctor's appointments, Bode and I were more than willing to be there for her. We wanted to make sure she understood she did not have to go through this pregnancy alone."
Article continues below advertisement
But instead, the couple claimed, McKenna spurned the approaches because of what Morgan said was jealously.
She wrote: "Even though it upset me, I understood it. She wanted to be with Bode and be in my position. She thought that having his baby would require him to be with her. Instead, Bode and I remained together."
Morgan posted a series of private emails and social media exchanges — "hostile tweets and threats," she claimed — on the blog, in a bid to prove their claims.
"Through all of our attempts to make her life as easy as possible and provide for her and support her through her pregnancy… (she continues) to tear Bode apart when all he has wanted to do is be in his child's life," Morgan added.
Prior to the New York judge returning custody to McKenna, the Millers were granted custody by a California judge.
During that time, they said, McKenna said they'd sent "multiple updates and pictures every couple of days" — something that is now not being reciprocated.
Article continues below advertisement
A lawyer for McKenna had no comment but confirmed they were aware of the blog posting.
Before it was removed from cyberspace, the backlash to the candid warts-and-all was harsh, with some posters calling the Millers hypocritical.
"We agree it's unfortunate," Bode responded.
"We stayed quiet for a year and a half and it didn't prevent the mother from lying to media sources which Nathaniel will see 10 years down the road. It was a hard decision to write this post but we feel like the truth will provide more complete information.
Morgan added, "Just because this is on my blog does not mean this is just me writing this. Bode and I wrote it together because he felt it was necessary to share. It was a family decision. I would never write this without the support and participation of my husband."
Get the exclusive celebrity scoop on all the stars you love before any of your friends by subscribing to our new podcast Straight Shuter below!