Accused Alec Baldwin Stalker Wanted A 'Mini-Baldwin;' Boasted 'The French Are The Best Lovers In The World, & I Master My Art'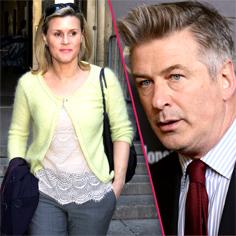 Before she was arrested outside of his home Apr. 8, 2012, the Canadian actress accused of stalking and harassing Alec Baldwin wrote the mercurial actor more than 100 e-mails, in some advertising her skills between the sheets in hopes of having his child, prosecutors in her Manhattan-based trial said Thursday.
Genevieve Sabourin last year wrote the 55-year-old actor a letter baiting him to bed her, prosecutor Zachary Stendig said, reading a few of the more salacious passages in open court.
Article continues below advertisement
Sabourin wrote, "I will be in prime of my ovulation this St. Patrick's Day and the best gift from you of all would be to conceive a mini Baldwin on this Ireland National Day … accept my proposal and I'll take you straight to heaven. There is many things I will do to you now in order to give you all kinds of delightful pleasure.
"French are the best lovers in the world and I master my art."
As she heard her racy writings, the NY Post reported Sabourin shouted, "Oh my God!" and other excited utterances, causing Judge Robert Mandelbaum to repeatedly warn her to pipe down.
Defense lawyer Todd Spodek said that Sabourin's actions were the result of her seeing closure as her 2010 relationship with the actor "crumbled" after the two engaged in a brief "sexual relationship," after which Baldwin gave her "the cold shoulder, and nothing else."
"No contact and no decency,"the defense lawyer said. "A complete disregard for Miss Sabourin and her emotions. Miss Sabourin was just looking for closure from a difficult relationship."
Baldwin has admitted to a 2010 meeting with Sabourin on professional terms, but said he was inundated with unwanted communications via emails and in-person visits thereafter. The New York native and his wife, Hilaria Thomas, will testify when the trail resumes next week.
According to Sabourin's iMDb page, she worked with Baldwin on the 2002 film The Adventures of Pluto Nash; he had a small role in the movie, while she worked in its' public relations department. She also appeared in 2002's Swindle and 2004's Eternal. Her last acting work came in 2007, the website reported.