Alec Baldwin Draws A Crowd During What Looks To Be A Heated Dispute With Pregnant Wife Hilaria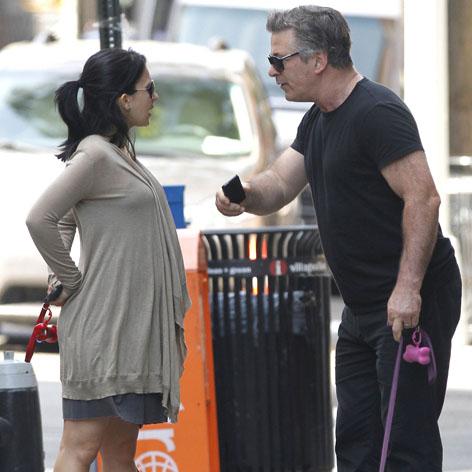 Notoriously hot-tempered Alec Baldwin drew a crowd on a New York street as he talked to his very pregnant wife, Hilaria, on Friday.
Gesturing with his hands, leaning in towards her and looking stern, the former 30 Rock star appeared almost to be lecturing his much younger wife, in a scene that played out in the middle of a busy sidewalk.
Several passersby stopped to stare, while Hilaria kept her hands behind her back and her face turned away from Baldwin.
Article continues below advertisement
The couple was out walking their two small dogs when their conversation went sour.
Baldwin famously berated his daughter Ireland, calling her a "rude, thoughtless pig," but the two have since repaired their relationship.
He was booted from an American Airlines flight in 2011 following a confrontation with a flight attendant, and he got himself into an altercation with a Big Apple photographer just last year.
Alec and Hilaria are due to become parents in August.