Private Detective Reveals How Adrienne Maloof Reacted To Being Served Divorce Papers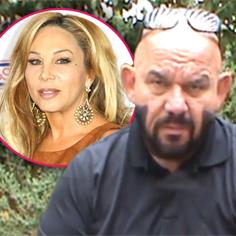 The man who had the inglorious task of serving divorce papers on former Real Housewives of Beverly Hills star Adrienne Maloof has spoken of her reaction at learning the news that her ten year marriage was kaput.
In a twist of fate, private detective John Nazarian stopped by Brandi Glanville's PodcastOne show to dish on his famous clients.
The pair soon found common ground on the topic of outspoken Glanville's one-time nemesis Maloof.
Article continues below advertisement
"Is it true you that served Adrienne Maloof with divorce papers?" Glanville asked.
"Yes. I remember the first time I saw her. It was at her mansion, and she came down the staircase like Loretta Young and just looked great," he said about Maloof stoically accepting the papers.
Glanville took a quick jab at her former co-star, scoffing: "She looked great? Are we being one-hundred percent honest?"
"The lighting was good," the private detective, who was working for Maloof's ex-husband Dr. Paul Nassif mused.
"She accepted the papers and she turned very militarily and walked away from me," he said.
The detective, who calls himself "the king of divorce," noted that there's no bad blood between him and Maloof today.
"Now whenever I see her in court, she hugs me," he said.
Glanville questioned her former foe's friendly actions.
"I'll tell you why that is. It's because you're famous now, and she follows fame," Glanville claimed.
Article continues below advertisement
"She was an a**hole to you when she didn't know who you were. Would you happen to agree with me on that?" she asked her guest.
"I don't know. You probably know her better than I do," he said diplomatically.
Continuing to interrogate the detective, Glanville wanted to know why Nassif needed a private eye to serve divorce papers.
"People want it done right and don't want mistakes. And that's what we get paid the big bucks to do," he said, adding the service comes with a hefty price tag.
"A normal process server gets $100 to serve papers. Our minimum fee to serve papers is $3,000," he noted.
Later, Glanville changed the subject to her ex-husband, Eddie Cibrian.
"I wish I would have known you a few years back. I was in a marriage, and my husband was cheating. I thought about having him followed," Glanville confessed, referring to Cibrian's affair with country singer LeAnn Rimes.
"Every man will cheat if given the opportunity," Nazarian warned.