Sinead O'Connor Blasts Simon Cowell: You've Murdered Music!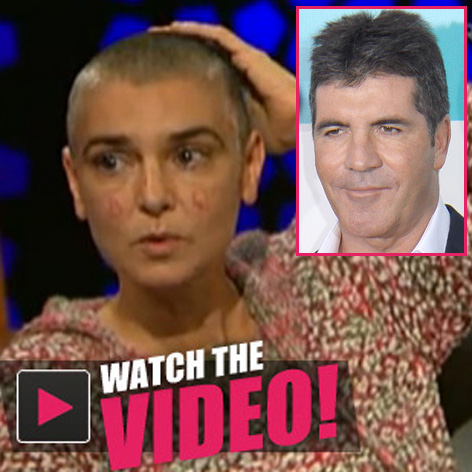 Article continues below advertisement
"I think the important thing to say is there's a certain alarm that needs to get rung and I know there are a lot of musicians around the country and around the world that will agree, music is being murdered, rock and roll is being murdered. The power of rock and roll to change things, to move people, is being murdered by all of this worship of fame, Pop Idol, X Factor, all this stuff," O'Connor told host Ryan Tubridy.
"People like Simon Cowell and Louis Walsh — who doesn't even know how to burn a CD as of the last time I saw him — deciding what records should sound like, and deciding who gets to be famous and who doesn't."
radar_embed service=5min.com src="http://pshared.5min.com/Scripts/PlayerSeed.js?sid=1126&width=570&height=351&playList=517958715&sequential=1&shuffle=0"
When pointed out that bands like One Direction are wildly popular, and created by Cowell, O'Connor says, "That's not the point I'm making."
Article continues below advertisement
"In fact, I quite clearly said I don't mind their music," she continued.
"I'm saying that why I got involved in the issue of whether or not it's appropriate for 20-year-old women to be asked to lick sledgehammers in videos for songs that have no lyrical reference to any such thing in them, is I would say is an exploitation of somebody who's possibly a little too young to understand the dangers of allowing oneself to be exploited in that way."
What she's referring to is the open letter(s) she wrote to Cyrus earlier this week in which she said the pop star's Wrecking Ball music video was a "signal to young women that its ok to act like prostitutes" and then blasted her for mocking those with mental illness.
Cyrus didn't seem to care much, responding on Twitter by saying, "Sinead. I don't have time to write you an open letter cause Im hosting & performing on SNL this week.
"So if youd like to meet up and talk lemme know in your next letter. :)"
O'Connor's next letter stated she has "no interest whatsoever" in meeting with Cyrus.
The video below is likely the only time we'll see the two of them together:
youtube=https://www.youtube.com/watch?v=rDcTgaoVwvs&w=420&h=315