Exclusive
Bad Girl Gone Good? Rihanna To Get A Family-Friendly Makeover For 'Animation Franchise' Based On Her Life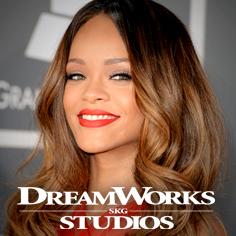 Singing about S&M and posting raunchy photos of herself on Instagram may be a thing of the past for pop star Rihanna.
RadarOnline.com has exclusively learned that the "Good Girl Gone Bad" singer is reportedly poised to get a family-friendly makeover.
According to a top source, DreamWorks Animation CEO Jeffrey Katzenberg is dying to build an animated franchise around the 25-year-old in a bid to "globalize and sanitize her image for the widest possible audience."
Article continues below advertisement
"Jeffrey has been tracking Robyn for a couple of years. He is a huge fan and believes the sky's the limit if she can clean up her act to appeal to a wider audience," the insider said.
"He sees a huge amount of money to be made there and wants to capitalize before somebody else does. He's making pop-friendly movies and wants her to be in them.
"It's time for Rihanna to go from R-rated to PG-rated. This is Jeffrey's firm opinion and he's doing all he can to make it happen."
The insider says the DreamWorks executive sees the same potential for family appeal with Rihanna that he saw in Chris Rock, who – despite his profanity-laden stand-up routines – is a key player in the Madagascar franchise.
Earlier this month, Rihanna caused outrage when she released her racy new video for her song "Pour It Up."
RiRi was filmed working a stripper pole and twerking in revealing outfits that left nothing to the imagination.