Exclusive
On The Warpath! Lady Gaga Threatens Legal Action To Stop Manufacturing Of 'Easy Access' Jeans Bearing Her Name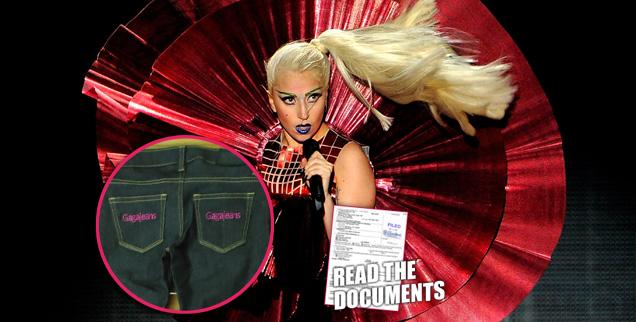 Lady Gaga has been on the receiving end of several lawsuits in recent months. But now, she's going on the warpath, serving up a legal letter exclusively obtained by RadarOnline.com to a clothing designer who has named his line of "sexitized easy access" jeans "Gagajeans."
Designer Philip Scott's "sexitized easy access jeans" feature a horizontal zipper across the crotch area. "When you see someone real fine-looking wearing them," he promises on his website, "your mind can only go one place and that is to the zipper."
Article continues below advertisement
Scott recently filed a trademark request to market the pants as "Gagajeans," but was quickly slammed by a letter from Lady Gaga's attorneys on October 1.
"It has come to our client's attention that you have filed an application to register the mark GAGAJEANS and are using the GAGAJEANS mark in connection with the jeans," Gaga's attorneys wrote " … In particular, you have misappropriated the dominant feature of our client's mark, GAGA, and merely added the generic term "jeans." Your use and registration of the GAGAJEANS mark is likely to cause confusion, mistake, and deception of consumers that Lady Gaga is affiliated with or has sponsored, endorsed, or is otherwise associated with your jeans, and is also likely to dilute the distinctiveness of our client's trademark."
Read Lady Gaga's Legal Letter Here
According to Gaga's attorneys, Smith also commented on several Lady Gaga videos attempting to direct fans to his website, gagajeans.co. (Smith's website has since been suspended.)
As such, they demand that Scott abandon his trademark request, deactivate his website, cease and desist making the jeans, destroy any prototypes, cease advertising the jeans, provide a full accounting of any sales so far, and confirm in writing that he will not seek to register any trademarks similar to Lady Gaga's name.
Article continues below advertisement
"If we do not hear from you by October 10, 2013," the attorneys write, "we will assume that you have no desire to resolve this amicably and we will proceed accordingly without any further notice to you."
But Smith insists he did nothing wrong. "All I know is that I applied for the trademark Gagajeans and when they did the trademark search it showed that no one was using it and that I could apply for it," he wrote in a response to Gaga's legal letter.
He insists, "I have never in any comments or actions tried to fool anyone into believing Lady Gaga is in any way connected to or associated with Gagajeans."
"Lady Gaga just wants to trademark the name 'Gaga' and has not or cannot," he claims. "This is not my fault. If she had trademarked the name 'Gaga,' then I would not have applied for the name Gagajeans for my trademark. But again, you should discuss this with the trademark office as they allowed me to legally apply for this trademark."
"I will not cancel my application for the Gagajeans trademark," Smith continues. "If the application is denied by the trademark office (which is likely), I will not use it. But until then, take a chill pill and wait for the trademark office to do their job!"
In closing, he writes, "Gaga is a word that has many meanings … But none of those meanings are of a rich female singer who uses her wealth and power and position to harass, bully and slander in order to get her way no matter what it takes, even though she already has more than most but just wants more and more even if it means taking it from others. Actually, I guess that could be the meaning of 'Lady Gaga!'"